"Thieves Like Us."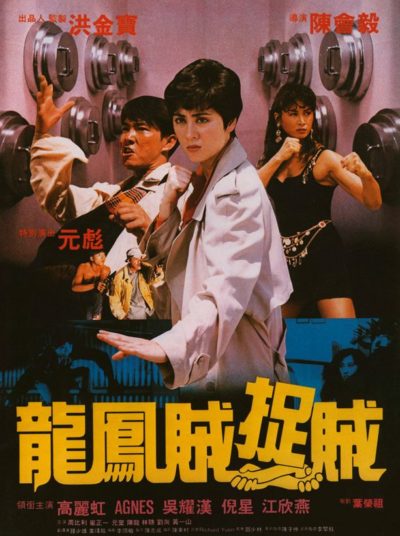 This is an largely over-looked gem, featuring the future Mrs. Samo Hung (Godenzi – they married in 1995) in a role and performance which are so excellent, as to make you wonder why she apparently quit the cinema the following year [though she does have a cameo in Mr. Nice Guy, appearing in the cooking show audience]. She first came to attention in Eastern Condors and, despite a lack of training, developed a graceful, fluid style of action that works well. Her best known vehicle is She Shoots Straight, but for my money, this is even better.
She plays Hung, one of three sisters who are the business end of a family of thieves. Their guardian decides to pass the clan on to Hung, but another sister, Ngan (Aurelio, also from She Shoots Straight) wants control – she fixes a job so that Hung is captured, then takes over operations, using brute force and murder rather than skill and agility on their robberies. Three years later, Hung's sentence is ended, but her sister immediately frames her again: to avoid jail, Hung agrees to co-operate with the police and work towards capturing her sister. She discovers Ngan has been hired to steal Napoleon's death-mask, and the film climaxes with the two sisters battling each other inside the warehouse where the treasure is guarded.
This is almost two plots for the price of one, as on the police side, you have the investigating cop (Ng), who has to keep an eye both on his new partner (Ngai Sing) and a swordplay-novel obsessed nephew (Yuen Biao), who both want to help, but together are as much a distraction as an assistance. This lends itself to the usual goofy and unsubtle HK comedy – for example, Ng stripping to his boxers after believing there's a bomb hidden in them – though these aspects don't grate nearly as badly as I've seen elsewhere. There are also a bunch of cool moments to the plot which are probably unnecessary, in the larger scheme of things, but are thoroughly satisfying, and suggest someone actually thought the script out, again something not always the case in HK action cinema.
Godenzi is great, putting over a great combination of coolness and charisma, with a confident attitude that's wholly justified. It's established in the first scene that she knows how to push her sister's buttons, and this comes back into play right at the end. Aurelio, a Filipina powerlifting champion, is a little less adept at acting, but is well-cast as the villainess, with a good sneer. There's one amazing, politically-incorrect exchange between the characters, when they meet for the first time after Hung's release from jail. Ngan sneers, "You look plump," to which Hung replies, "Better than you, with sunburn like a nigger!" Ah, the 1990's…
But this one is less about offensive banter, than action scenes which are top-notch, from the opening practice duel between the sisters, through to the final battle – this time for real. It's particularly inventive as, early on, the sisters have to fight each other without making a sound, to avoid alerting the guards The highlight is, however, probably an amazing fight in a car-park – one of the top locations for mayhem in HK films, right up there with restaurants and warehouses – where everyone bar Aurelio gets involved. Her role as top villain there is delegated to Billy Chow, who went toe-to-toe with Jet Li in Fist of Legend, and he's one hell of a formidable opponent. The action choreography is credited to Lee King-chu, but I suspect producer Samo Hung had more than a little involvement.
There is little or no depth here, only really what Godenzi brings to the table. But there is, equally, little or no intent of depth either: this was created purely as entertainment, nothing more, and on that level it succeeds admirably. It's a real shame Godenzi chose not to follow a career as an action actress since, on this showing, she could well have ended up as big a star in the field as Michelle Yeoh.
[A note on spelling. The sleeve says 'LicenCe', but the print goes with the S. The former is also grammatically inaccurate, so I've gone with the S spelling throughout this article.]
Dir: Billy Chan
Stars: Joyce Godenzi, Agnes Aurelio, Richard Ng, Alvina Kong