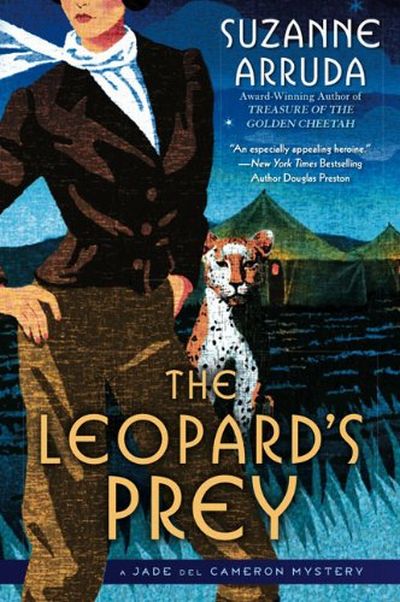 This fourth installment of the Jade del Cameron series has much the same strengths and general style of the previous books. We find Jade back in British East Africa, a few months after the events of the third book, The Serpent's Daughter, and again encounter our old friends from the first two books. She's supplementing her writing income by using her lariat and photography skills to help Perkins and Daley, the two partners in a small company that secures African animals for U.S. zoos. But we sense early on that her sleuthing skills may also be called on again, with the discovery of the dead body of a merchant from Nairobi (1920 population, ca. 11,000 –white population, ca. 3,000). Is his death, as the authorities initially suppose, suicide –or murder? And where is his unhappy wife? And did she or didn't she have a recent unreported, unattended childbirth? Inquiring minds want to know; and Jade has an inquiring mind, soon made more so by the fact that the lead investigator seems to consider her beau, Sam Featherstone, a prime suspect.
The mystery (or mysteries) here was more challenging than in the previous books; I was able to figure out the basic solution about the same time that Jade did, but not before. Jade will face life-threatening jeopardies, and get to display her action-heroine credentials before the book is over; she's also learning to fly Sam's biplane, to add to her accomplishments (and yes, she'll get to fly solo here). Arruda isn't simply marking time with this installment; there are significant developments in store for some of the secondary characters, and one for Jade herself.
In a couple of areas, Arruda touches on serious issues in this book, issues from a 1920 context, but which have continuing relevance. By 1920, wildlife in parts of Africa was already coming under pressure from the great influx of European settlement and urbanization, as well as the spread of European-style agriculture. This brought habitat destruction, and the killing of predators to protect livestock –the old Africa already at war with the new. For Jade, taking individual animals to safety in a zoo is a way to help protect their species from extinction. But she's also painfully aware that from the standpoint of the animal, life in a zoo isn't the same thing as freedom; something important is lost. This is a quandary the morality of which is still being debated, nearly a century later. And much more so than in the previous books, we're brought face to face with the ugly injustices of British treatment of native Africans: subjected to arbitrary taxation without representation, payable only in British money, and solely designed to force the males over 13 into oppressive labor contracts with white employers; subjected as well to travel restrictions (in their own country), that leave them virtual wards of the British and bind the males to their jobs.
This has always been, and continues to be, a seriously researched series, in which the results of the author's research are blended seamlessly into the narrative, creating a strong sense of place. Here, we have a close look at traditional Masai culture –not as immersive and detailed a literary experience as the exploration of Amazigh (Berber) culture in the previous book, but still fascinating to me. Arruda's treatment of non-European cultures is realistic but respectful. As always, her concluding Author's Note here is mainly an annotated description of the source material she used in writing the novel, which would be valuable to readers who want to learn more about Africa (and post-World War I Africa in particular).
Author: Suzanne Arruda
Publisher: New American Library, available through Amazon, both for Kindle and as a printed book.
A version of this review previously appeared on Goodreads.