"Never mind the plot, feel the epicness."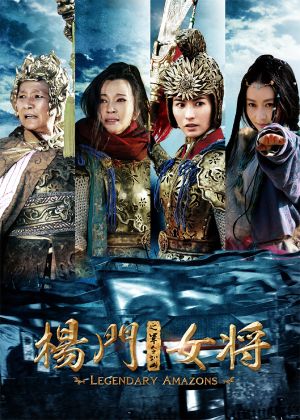 To be honest, I have very little clue about what was going on here. Oh, the basics are clear enough. After losing their patriarch General Yang Zongbao (Ren) in battle, a noble family opts to send everyone out to the West to defend the realm from the usual invaders. They're almost entirely female, but all possess significant ass-kicking ability, with their own particular weapon of choice. These are listed, in rapid order, near the start of the movie, and I'd suggest taking copious notes, because you won't be able to recognize them otherwise: one armour-clad woman looks very much like another when they're in battle. It'd probably have helped if they'd had a number on the back of their helmets or something. Hey, it's not like this is a model of historical accuracy to begin with.
However, I can't really comment with any degree of certainty on the rest of the plot, because I'm just too unsure what was going on. There's the General's wife (Cheung), his son Yang Wenguang (Xiao), who isn't much of a warrior and the matron who more or less runs things in his absence (Cheng). But quite why there are so many widows with mad martial arts skills is never clear: perhaps it would make more sense if I'd seen the seventies' Shaw Brothers flick, The 14 Amazons, based on the same source material. Once battle is joined, you're best off focusing your attention on that, as the plot threads that spin off are incomprehensible, irrelevant or both. The good news is, the action is copious, and generally as well staged as you'd expect from a veteran like Chan – though there is a somewhat disturbing amount of undercranking, which I haven't seen used in such a volume for a long time.
If Cheng is perhaps the only one to stand out among the main cast – certainly making much more of an impression than Cheung – perhaps the best thing is the return, in a supporting role, of Yukari Oshima. Chan had previously directed her in the fine fluff film, Outlaw Brothers, and I vaguely recall he was directing her off-screen too (if you know what I mean and I think you do…) Oshima hadn't been seen for more than a decade, and still looks the part, even as she's now nearly 50 – a startling thought. While she's not used here as much as I'd like, perhaps it's a signpost to a comeback further down the road? We can only hope.
Dir: Frankie Chan
Star: Cecilia Cheung, Richie Ren, Cheng Pei-Pei, Xiao Mingyu