"I'll no longer be a man's toy, even if it kills me. I'd like to kill all men who abuse women with power and money."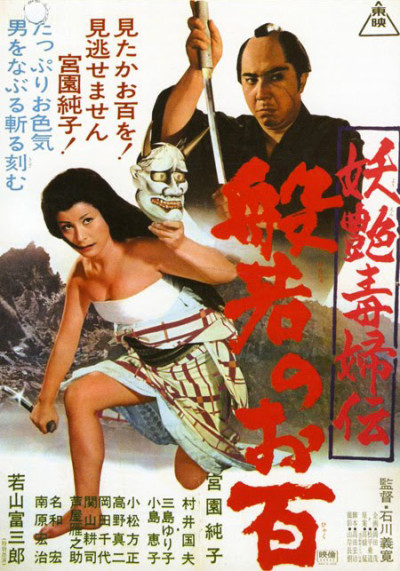 Well, you can't argue with a title like that, can you? This proto-pinky violence film has many of the elements later developed more fully: a wronged woman is sent to prison, only to escape and seek retribution on those responsible for putting her there. In this case, it's a period setting with part-time circus performer, part-time prostitute Ohyaku Dayu (Miyazono) finally getting the courage to break away from her sordid lifestyle, with the help of honourable thief Shinkuro (Murai). He's planning a raid on the local mint, to steal the raw gold they use, and punish corrupt local officials.
However, a treacherous colleague betrays them, for a bureaucratic promotion, and Ohyaku is sent to prison – and, not even a women's prison. It's a men's prison, that doubles as a gold mine. Fortunately, she falls under the protection of Bunzo the Iron Barbarian, which keeps her safe until she can work her wiles on the warden and his bisexual wife (Mishima), the latter of whom is obsessed with getting to tattoo Ohyaku, Our heroine chooses the Hannya demon as the subject – for good reason, as she eventually escapes jail to set about her revenge, and also complete Shinkuro's raid.
The first and last third of this are truly effective, doing an excellent job of setting up the characters and resolving all the plot threads respectively. You can't help but empathize with Ohyaku, her predicament and the steely resolve, maintained through some extreme tribulations, to take revenge for her lover – who is nicely drawn as well, Murai coming over as both charismatic and moral, despite his chosen profession. However, it sags badly in the middle third, from her arrival at the prison until her escape; it's a section which either should have been shortened considerably, or needed more to happen.
Despite being made as late as 1968, it's shot in black-and-white, which gives it a retro feel. It's certainly a lot tamer, particularly in terms of nudity, than the technicolor tidal-wave that would be unleashed a couple of years later. Still, that's not necessarily a bad thing, enhancing the impact of things like a trickle of blood down Ohyaka's forehead. Some of the torture on view is certainly imaginative, such as being hung by the neck, with your feet just touching a metal plate enough to stop you from strangling. Then a fire is lit under the plate… Damn. Also of interest, the presence of the legendary Tomisaburô Wakayama, best known as the hero of the Lone Wolf and Cub series (a.k.a. Shogun Assassin), as a sympathetic gang boss.
The first in an apparent trilogy, this manages to overcome the weak middle section and leave me interested in following Ohyaku's subsequent adventures. Miyazono may not have the impact possessed by some of other other pinky violence stars, yet the better-than-average script helps balance that out, and this has stood the test of time better than many of its era.
Dir: Yoshihiro Ishikawa
Star: Junko Miyazono, Kunio Murai, Koji Nanbara, Yuriko Mishima