"Oregon, after the rain…"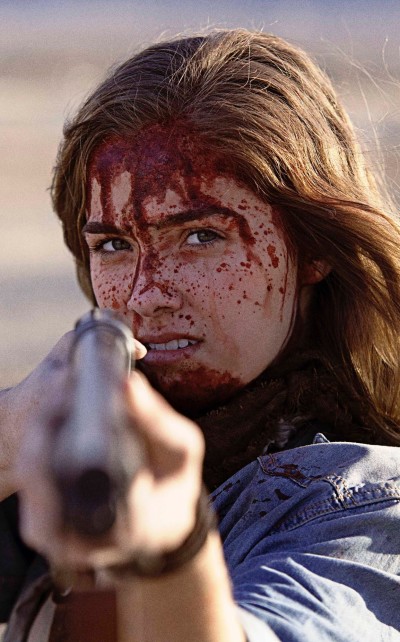 The Pacific North-West is now a blasted, bone-dry desert, in which a few survivors eke out a precarious living, drawing what water they can from their wells. Intent on taking over the entire area is Carson (Gries), who bullies landowners into joining up with his posse, so he can take their water, or simply fleeing – and kills those who won't comply. Hiding out is Kendal (Richardson) and her sick brother, Dean (Stewart – seriously, who calls their kid "Boo Boo"?), who needs lots of water to help his failing kidneys cope. She is seeking a distributor cap, so the plane they have stashed in the barn can be used to fly them to safety, but will she find that before Carson figures out their "deserted" farm actually holds both them and a functioning well?
There are a lot of strong elements here, but they are counter-balanced by a number of weaknesses. To get the latter out of the way first, Dean's character arc is painfully obvious; five minutes in, Chris turned to me and said, "You know he's going to die, right?" Also, the kid who lives next-door, Alby (Charles), doesn't serve much purpose at all, until the very end, when he simply steps into Dean's shoes as someone who needs Kendal's protection. And speaking of Kendal, she is remarkably well-kept, considering she's living in a world where every drop of water is a precious asset to be conserved. Long, luscious locks, apparently shampooed daily, fresh-faced complexion, etc. In terms of styling, Kendal needs to be much more Charlize Theron in Fury Road, and less Aeon Flux.
While these negatives are more or less severe, they don't outweigh positives that are equally apparent, and greater in number. Kendal is an unrepentant bad-ass, prepared to do absolutely whatever it takes, for her and her brother to survive, whether it's with her pump-action shotgun or a katana – the latter seems to be preferred on the video sleeves, although it's actually the former she uses more often. The almost complete lack of romance, often seen in YA novels and films, is very refreshing; there's no hero over whom Kendal goes all moist-eyed, and the only real love shown is for her sibling. The supporting cast is very good too, highlighted by Gries, who seems about a million miles from his best-known character, Uncle Rico from Napoleon Dynamite. The rest of his crew are little less scary, and there's a nice, albeit very minor supporting turn from horror legend Barbara Crampton. The Mojave Desert stands in for drought-stricken Oregon well, with the photography making heavy and effective, use of sepia filters.
It is a bit of a steady climb through the foothills, before things start to kick off, so you do need to be a little patient. However, the payoff is largely worth it, even if the final batter, between Kendal and Curtis's daughter, Brooke, leaves a little to be desired, mostly because Brooke has never been established as much of a credible antagonist beforehand. Like the rest of the film's flaws, I can't say it damaged our enjoyment beyond repair; there's still plenty to enjoy, and Richardson carries the film with an assurance beyond her years.
Dir: Thomas S. Hammock
Star: Haley Lu Richardson, Booboo Stewart, Jon Gries, Max Charles
a.k.a. The Well