"Competently bland, as usual with Lifetime. "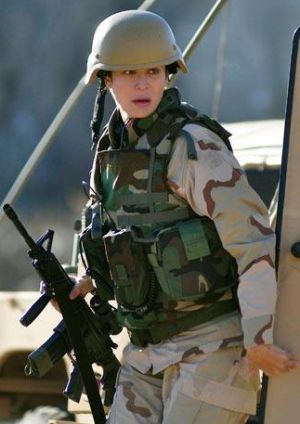 Kinda odd to see Dickerson – cinematographer on a lot of Spike Lee's movies, and Eddie Murphy's Raw – directing this Lifetime original movie. It's certainly not edgy, though that's not what Lifetime is exactly about. You largely know what you're going to get with their output. Something technically decent, usually with decent enough performances, but something that clings to the viewer's comfort zone like a limpet. Is it wrong to criticize the channel for that, when it has absolutely no interest in pushing the envelope? It'd be a bit like coming down on Disney for making kids movies. It's what they do: deal with it.
The heroine here is Abby Collins (Bell), a former soldier and technician who is now a soccer Mom with a veterinarian husband (Hall) and cute-as-a-button daughter. But, inevitably, dark forces loom, when she gets word a former army colleague has apparently committed suicide. Before she knows what has happened, her spouse has been kidnapped and someone is using that to force Abby to break into her colleague's office and do some shady financial transactions. It's up to her and another ex-soldier. Jeremy Davis (Phifer), to figure out what's going on, the connection to her past, and rescue Mr. Collins: it'll take all of Abby's skills, both electronic and technical, before the "shocking" truth is revealed.
Quotes used advisedly, because I'd recommend a trip to the optician's, if you can't see the twist in the script (co-written by Bell's husband I note) before it shows. There are other glitches in the story, such as the semi-cheating way in which Abby's past is hidden from the audience for much of film. However, if you can forgive the utter predictability of it all, and the lack of discernible flavour, there are worse ways to pass an hour and a half. It's a difficult task for any actress, managing to be convincing both as a home-maker and and an ass-kicker: Bell does a decent task on both, though the stunt-doubling for action purposes is often less than subtle. Compared to some of the stuff aired by Lifetime, this is by no means all that bad, though you don't have to look far to find its flaws.
Dir: Ernest Dickerson
Star: Catherine Bell, Anthony Michael Hall, Mekhi Phifer, Ella Anderson