"Legitimately terrible, among the worst films I've ever seen."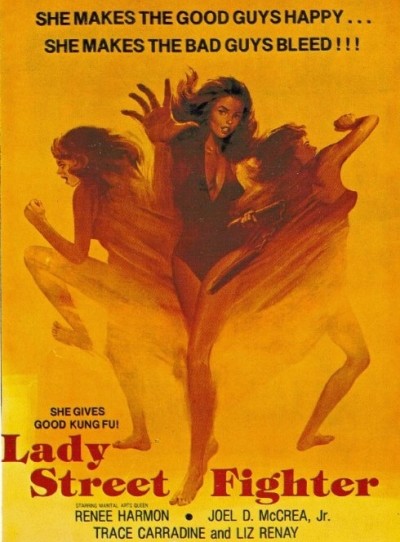 Let me start off by repeating myself, in case you missed it, because I want to be absolutely clear on these points. This is legitimately terrible. This is among the worst films I've ever seen. And I speak as someone with over 25 years of watching really bad films. That half-star is solely for amusement to be gathered from how bad this is, because there are basically no redeeming features here at all, and I speak as someone who will tolerate almost any pile of shit with an action heroine in it. This movie is largely responsible for the addition of the word "almost" to the previous sentence, despite being mercifully brief at a mere 72 minutes in length. The half-star is simply because I did reach the end without gnawing a limb off to escape. I think I deserve some kind of Internet prize for that.
The problems start with the lead actress, Harmon, who is barely intelligible in English, to the extent that in her conversations, you largely have to listen to whoever she's speaking to, and try to figure out what she said from their responses. Her acting talents are almost non-existent. but are probably better than her martial arts skills, which… just aren't. Gives mean celery fellatio, however. Trust me, you don't want to know. She plays Linda Allen, flies into the movie to investigate the death of her sister, apparently killed by the villains because she had a stuffed toy containing incriminating information. Ok, let's pause here for a disclaimer. Please take the word "apparently" as read for the rest of the review, because this film does such a godawful job of explaining things, I'm not prepared to vouch for the accuracy of any plot point. I'm not even sure from which decade this dates. The IMDb says 1985, but the fashions are pure seventies, and judging by the near-sampling, the soundtrack was written when The Good, the Bad and the Ugly was still in theaters.
Allen is in trouble almost as soon as she arrives, with someone trying to stop her, though their efforts to silence her are woefully inept. There's FBI agent Rick Pollard (McCrea), who may be undercover, may be crooked, and has thing for our heroine; John Verdes, who runs an escort agency; and Max Diamond, who is into drugs as well as "harder things," (specifically, has an assassin for hire business), and has a foot fetish which would make Quentin Tarantino snort derisively. He holds parties which are the height of 60's/70's/80's/whatever decadence – except for the guys incessantly chanting "Toga! Toga! Toga!", who appeared to be on loan from Delta Tau Chi. It's kinda hypnotic, in a "passing a multiple pile-up" kinda way; you find yourself guiltily wondering what horrors will be present around the next bend. The same goes for most of the film as it evolves, and Linda makes her way up the chain to find the truth about her sister's death, with the help or otherwise of Pollard – it appears she particularly needs help, when clambering over any barrier above knee-high.
Awful on every conceivable level, I was unsurprised to discover the director was also responsible for one of the worst horror movies of all time, Don't Go in the Woods and also, The Executioner Part II, which likely rivals this one for title of worst action film of all time. Such a broad scope of diverse talent can only be admired. If you can admire it from a distance, without actually having to watch any of his work, so much the better.
Dir: James Bryan
Star: Renee Harmon, Joel D. McCrea