"Coherence sold separately. And in another language."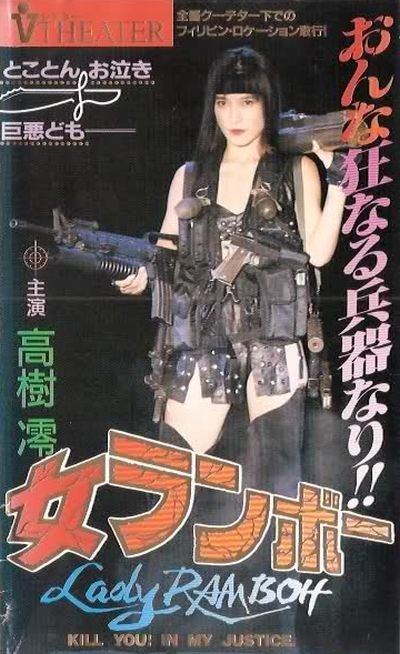 I have literally been staring at the monitor for five minutes now, and still don't have any idea of where to start. I'm tempted just to leave you to figure it out, based purely on the Japlish title and the cover. The truth is, you would probably end up with as much of a credible feel for what this entails, as from any, technically more coherent explanation I can provide. My understanding was somewhat hampered by the fact that this was mostly in Japanese, though helpfully, the international cartel of villains did appear to use English as their official language. It appears to concern a group of Japanese "G-men" – a term I thought was repealed along with prohibition – investigating and disrupting the Philippine operations of said cartel. Of course, there is also one G-woman, Miki (Takaki), who has an epic sense of haute couture, entirely befitting the lethal killing machine which she is.
The cartel, fed up with having their evil plans thwarted, decide to stop Miki by kidnapping a couple of her friends. Unfortunately for all parties, the rescue operation ends with rather more corpses than survivors, which sets Miki on an implacable course for a head-on collision, in which she will strap on her battle suspenders (I am so not making this shit up) and stage a one-woman assault on the cartel's compound. Meanwhile, the cartel, having realized the ineptness of their own staff, who could take marksmanship lessons from stormtroopers, bring in an external consultant, in the form of a female counter-assassin. She is, similarly, strapping on her battle hot-pants (camo, naturally), and is ready to face Miki. Though sadly, it turns out she has some kind of history with another of the G-men, and we are thus robbed of any high-fashion cat-fight, which would surely have been a high point of the cinematic artform.
You may, marginally, be detecting faint notes of sarcasm here. Yet, I have to say, the budget here is all up on the screen, mostly in the form of giant fireballs. It's clearly not just Roger Corman who made films in the Philippines, to get the most bang (literally, in this case) for his money. There is a cast of… well, if not thousands, at least several dozen, as well as helicopter shots, and in technical terms, it is certainly no less competent than a straight-to-video actioner made in the West around the same time (1994). What it possesses in energy, however, is severely negated by the horrific English dialogue and acting; while I appreciate that this did allow me to follow what was going on, it was mind-numbingly bad. The title gives you a good idea of the level we're at, though is likely not the weirdest in Ms. Takaki's career, which (per the IMDb) also includes TV show, Funny or Spank: Airport for 24 Hours.
The film begins with a two-minute montage, which made me wonder if I had been thrown into the middle of some ongoing series. It is, in fact, clips from later in the movie, effectively opening with a trailer for itself. Like so much here, this is likely lost in translation, but here's the section in question. It probably renders the preceding 500 words, more or less superfluous.
Dir: Suzuki Ippei
Star: Mio Takaki