"Secret technique, reverse dildo return!"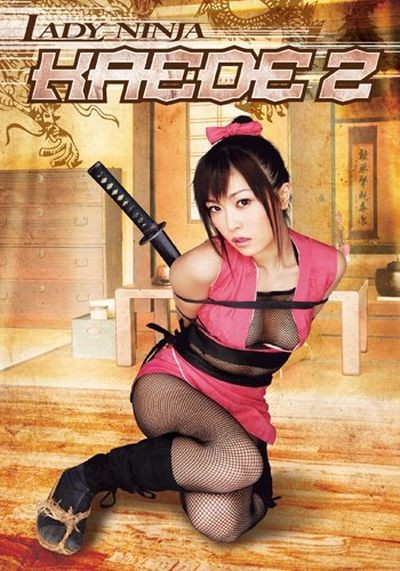 I am uncertain whether this is related to the other Lady Ninja series, or if it's an entirely separate series. I'm leaning towards it being independent, as there appear to be magical overtones here, that weren't present elsewhere. But just to confuse matters further,while this is on Netflix at the time of writing, there's no sign of part one. Perhaps, if I'd seen that, this would suddenly become entertaining? Nah. Pretty sure it wouldn't make a difference. This is slightly elevated over its predecessor by not being a po-faced ninja story with soft-porn sex scenes. It is, in fact, a barking mad ninja story with soft-porn sex scenes. What? You want specifics?
The heroine, Kaede (Akatsuki), is basically a member of the sex police, punishing those who are too lustful. There's a religious sex cult who have combined the penises of three men into one supercharged dildo, leaving them with an apparent gaping void at the crotch. After fulfilling her first task, or retrieving the hyper-dildo, it's up to Kaede to fix things, by finding the three donors and having sex with them, which restores their genitals. She is accompanied on her quest by a gay samurai.
Not included in this film. Any significant ninja-ing by Kaede; what action there is, is more carried out by the samurai. And, contrary to the sleeve, nor is she tied up at any point, so any bondage fans will be particularly disappointed. There is, of course, plenty of aardvarking, as Joe-Bob Briggs used to put it, and actually, I can't say I minded the performances too much. The division of the population into those for whom sex is positive and those for whom it's negative, reminded me (bizarrely!) of a Japanese medieval take on Cafe Flesh, Kaeda supposedly being on the anti-sex side, but in reality being the most active of anyone.
There are moments of twisted creativity that made this not unwatchable, and there's a mad aesthetic here that could be appealing if you're in an undiscerning mood. But if you're looking for any kind of action beside the horizontal variety, you are going to be extremely disappointed. Finally, I did have to snort derisively at subtitles during the magic ceremony which referred to "Casper Howser", who is presumably Doogie's occult-inclined brother. I imagine that should instead have been "Kaspar Hauser", a 19th-century German figure with mystical significance, about whom Werner Herzog once made a movie. Bit of a toss-up whether distributors Tokyo Shock did not know, or just did not care.
Dir: Takayuki Kagawa
Star: Luna Akatsuki, Kazu Itsuki, Yuka Sakagami