"An archetypal forties B-movie; a straightforward tale, briskly told."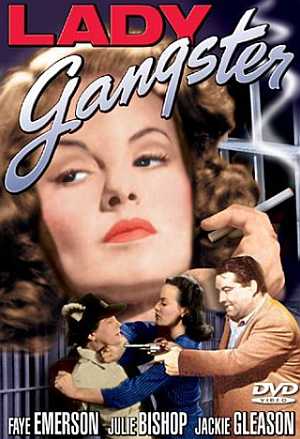 Having watched both Transformers and Miami Vice over the past week, it's nice to see a film that doesn't hang around: coming in at sixty-two minutes, Lady Gangster has hardly a line of dialogue that does not propel the story forward. Based on the play, Ladies They Talk About (previously a 1933 film starring Barbara Stanwyck), this centers on Dorothy Burton, member of a gang of bank-robbers. She takes the rap for one of their jobs, and goes to jail, but is also the only one who knows where the loot is hidden. Childhood friend Kenneth Phillips (Wilcox), now a renowned broadcaster, tries to help Dorothy get parole, but she has also made an enemy inside the prison, who is just as keen our heroine does not get released, and her former gang colleagues have their own interests, needless to say.
Made in 1942, there really weren't very many films of that period which features female protagonists in this kind of role, and it deserves credit for that. The first half, in particular, is remarkably watchable today, though the plot does find itself badly-convoluted later on. There's a lot to get through, and the film gallops on at such a heady pace, it feels almost like a trailer for itself. Made post-Hays Code, that obviously forced the makers to tone things down as far as content goes; despite the head warden's protests that the jail is "neither a country club nor a concentration camp", it's certainly closer to the former. Emerson is great as the heroine – she'd go on to a long television career – and Jackie Gleason (The Honeymooners) also turns up as the gang's getaway driver. Despite a daring escape from jail, she ends up taking a back-seat to Phillips and his two-fisted heroics at the finale, which is something of a shame, but undoubtedly a result of the era. Certainly remains a decent effort.
Dir: "Florian Roberts" [real name: Robert Florey]
Star: Faye Emerson, Frank Wilcox, Julie Bishop, Roland Drew