"A semi-random grab-bag of bits and pieces. Coherent – no. Amusing – most definitely."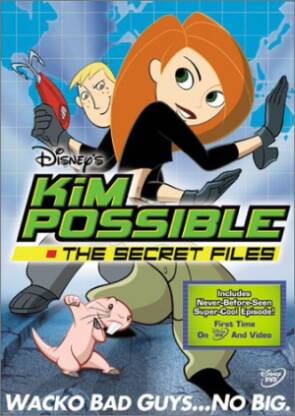 This compilation puts together four episodes – three from the first season, plus another at the time exclusive to the DVD. It's hard to see who this is aimed at: if you've not seen the series, novices may find elements, such as Ron's naked mole rat, kinda bizarre (trivia note: the rat's squeaks are by Nancy Cartwright, who also does some loser called Bart Simpson). On the other hand, fans will have seen almost all the material, and would likely far rather have seen a complete Box Set rather than semi-random episodes. They're not even particularly highly-regarded ones: the TVTome viewers' poll ranks only one in the Top 20. However, it's still the smartest thing on the Disney Channel, and easily kept the GWG viewing panel (ages from 19 to forty-coughhackwheeze) entertained.
The first episode, Attack of the Killer Bebes, is the best, I'd say. Ron wants to be a cheerleader, while Kim's dad is kidnapped by the evil Dr. Drakken, who has built three fem-bots in order to…er, do something. It illustrates the central idea of KP – Kim's Sisyphean struggle to balance home, school and fighting evil – with beautifully surreal moments, such as Drakken's quest for a phone-book to prove that Possible is a common surname. Downhill, the second ep, works less well; it's too group-huggy, teetering on the edge of sickly. But the concept of D.N.Amy, a toy collector and crazed bio-geneticist intent in making live version of her plush pals, is enough to keep things interesting.
Third is Partners, where Kim is paired with the class genius for a science project, while Drakken and D.N. Amy team up, with the following immortal exchange:
D.N.Amy: "But I'm all about cute and cuddly!"
Dr. D: "Have you ever tried vicious and bloodthirsty?"
D.N.Amy: "Do you think I'd like it?"
Finally, tucked away in the special features, there's Crush: how it all began, though with surprisingly little insight into Kim's origins as a superheroic teenager. She springs, fully formed, taking on Drakken's giant robot and asking her crush, voiced by Breckin Meyer, to the dance. Overall, it's a cute package, but you'd probably be better off starting with A Sitch in Time, and waiting (hopefully…) for that Season One box set.
Star: Christy Carlson Romano, Will Friedle, John DiMaggio, Melissa McCarthy