"Nikita meets Alias, while on vacation in South Korea"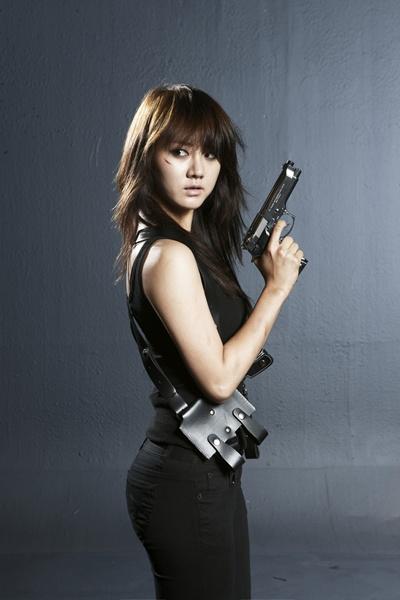 Let's be clear, right out of the gate. There is really not much original about this Korean mini-series, which takes huge chunks, almost wholesale from Nikita and Alias, to the extent, for example, that we perpetually referred to one character as "Amanda", since she reminded us so much of Melinda Clarke's character from Nikita, right down to her fashion choices. However, as long as you're not looking for anything startling in the way of originality, this is slick yet gritty, with characters that are interesting to spend time with, and a handle on the action that's easily the match for its equivalent in the West. Let's start with some significant plot exposition, because there's quite a lot of characters and story crammed into the three one-hour (or slightly more) episodes.
Spoilers Episode 1. Cha Yeon-Jim (Groo) is having a bad day – she just got expelled from school – and it's about to get an awful lot worse. Hanging out by the docks, she and her friends get into a confrontation with some workers, only for things to be interrupted by a scripture-quoting hitman, Jang Se Wook, who shows up and starts shooting everyone, on both sides. Cha escapes, but when her friend is killed, as he tries to report what he saw to the police, she realizes she's in deep trouble. Policeman Choi Tae Young (Baek), who was also at the scene, tries to track her down, but Jang is also after Cha. He wants her to return a flask of green liquid she took in the confusion, and kidnaps her mother to force Cha into compliance. At the handover, Mom is impaled by Jang's sword and Cha is gunned down and left for dead.
Episode 2. Chief Min Ji Young (Park) comes on the scene, and saves Cha, faking her death. Min works for the same company as Jang, the Mirae Corp, a medical company run by Kwon Do Hwan. They are engaged in some shady experiments involving stem-cell research, and in particular the creation of artificial humans for organ harvesting, with the protection of high-up government ministers. To protect their company secrets, their division SS1 operates ruthlessly: Min recruits Cha as a new killer, not telling her Jang is simply another arm, but training her as an assassin, with the lure of eventually tracking down and taking revenge on the man who killed her mother. Cha's initial targets are those who pose a threat to her employers, but Min has her own agenda, and when Jang has eventually proven to have outlived his usefulness, she has no compunction about turning her two killers on each other.
Player loading
Episode 3. Choi accidentally bumped into Cha in part two, under her new identity, and now teams up with Yoo Sung Ho (Kim), who used to be part of SS1, but bailed with his lover, Cha's mother, and went into hiding – he was replaced by Chief Min. They are seeking evidence that will let them bring down Mirae and expose their human experiments. Cha wants to leave the organization, having fallen for Go Young Min, a boy at school. Min initially requests "one last hit" – so you know that's going to work out just fine… In the process, Go sees Cha standing over the corpse of her target, holding the murder weapon, and as a result has to be terminated by Chief Min. That, and the discovery that her schoolmates have been used as guinea-pigs turns Cha against Mirae, and she links up with Choi, as Kwon prepares to reveal his latest plan. End spoilers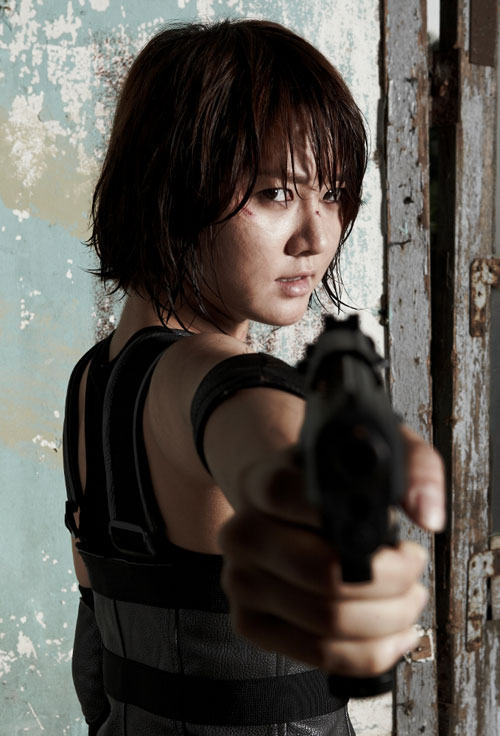 Phew. Plenty going on there, with enough for a full 13- or 22-episode order of most series, between all the twists, turns and revelations e.g. turns out Cha's relationship to Chairman Kwon is rather more personal than she is aware. Given how much gets crammed in, the opening installment is a bit of a slow start. The entire first episode is more or given over to setting up the scenario, with Cha showing very little of the skills she has developed later on. She's semi-competent in basic martial arts, which is perfectly fine when it comes to beating up fellow pupils. But we soon find out that this level of skill is far from enough, when she comes up against Jang and the other professional killers of SS1. Early on, it's Choi who is most entertaining, portraying a dutiful and dogged cop whose superiors refuse to give him more than a gas pistol which is, similarly, pretty useless in the clutch.
 It's the second part where things really take off, as events jump two years forward; the show takes Cha's training largely as read, save for a quick montage. Instead, her new cold-bloodedness is amply demonstrated in the opening sequence, where we see her sniping out her target at a wedding, despite the presence of children which makes Chief Min call off the hit. It's clear that this is a new, focused girl, with skills to match. Of course, as is standard for the genre, she still has to deal with everyday issues, since she has been sent back to school [which, conveniently, also offers a suitable tower from which to carry out missions, as can be seen above]. From there, through to her final confrontation with Cha and his minions, it's an excellent bit of TV, one of the most intense action-heroine episodes I've seen in any genre, with the heroine taking obvious damage, both mentally and physically, as things proceed.
Let's pause for breath before we hit the finale. One thing we noted was that Korean rules regarding what can be broadcast on TV are apparently a good deal laxer than in the US. This was, apparently, a late-night series, and it's not clear if this was "over the air" or cable; there's apparently advert breaks, but that could still make it something like FX or AMC. [Edit: CGV channel is "a movie cable channel", so SHOtime or HBO would be closer parallels] The violence is generally crunchy and squibby, but it's the female nudity that's an unexpected pleas… er, particularly striking. :) There does also appear to be some confusion over the title of the show, which I've seen called several different variations of the letter K, as noted above. Here, I've gone with what appears on the intro screen in English for each episode.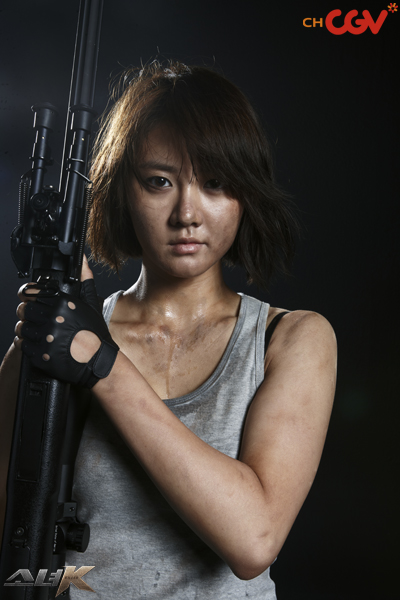 We were kinda wondering where things might go in the last episode, with Cha having apparently sorted things out. Never mind: a whole new catalog of problems raise their heads, as the removal of her justification for assassination leaves her seeking a return to the normal life, one Chief Min is none too keen to offer. With its emphasis on discovering the truth about SS1 and the organization behind it, this episode reminded me of Alias after Sidney Bristow discovered. Meanwhile, dealing with boy issues was a throwback to early Buffy. However, the human experimentation thread was a fresh ingredient, and the episode didn't pull from the darkness, with a subplot involving a Mirae whistleblower and SS1's efforts to hush it up. Even if Cha and Min suddenly can't hit the side of a barn in their final confrontation, the threads are satisfactorily tied up down the stretch, with an ending pilfered shamelessly from My Wife is Gangster 2, that hopefully hints at more to come down the line.
As noted, most of the content is material with which most genre aficionados will already be extremely familar, but there seems always to be room for another "faked death assassin" – Nikita alone has already led to three movies and a pair of television series. It's the execution(s) that matter here, and this is easily the match of Western action heroine productions of late. I wouldn't be surprised if this ends up heading over to the West in some form or other, most likely a remake, as has been the case for some many Korean, Japanese and HK movies in recent years. If so, they'll have to do sterling work to match up with this original.
[Thanks to Hyomil for most of the pics. Killer K can be enjoyed in a subbed version online, through sites such as viki.com, albeit with a somewhat irritating sous-title commentary, which makes watching the show like sitting in the theater with a bunch of chatty teenagers. Still, better than nothing!]
Dir: Kim Jong Hyun
Star: Han Groo, Park Hyo Joo, Baek Do Bin, Kim Jung Tae
a.k.a. Girl K, Little Girl K, Killer Girl K