"Vanity kills."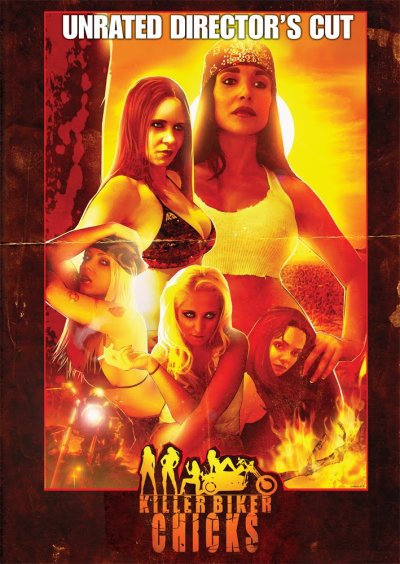 Oh, dear. I'm sure those involved with the production and their mates loved this. To anyone on the outside… Much less so. However, the problem is not actually the concept, of an all-female biker gang, which had a long, disreputable B-movie pedigree, going back at least to the sixties, with Herschell Gordon Lewis's She-Devils on Wheels and similar films. The women here operate under the leadership of "Mother" (Gorlano), and in something apparently inspired by Sons of Anarchy, run a garage/bar that doubles as gang HQ, from where they also deal meth to passing truckers (and midgets), while taking their tops off at random intervals – in particular Baby Doll (Roth). Possible related: there may be a strip-club that's part of it, but the film is vague on the details of their infrastructure.  The movie starts well enough, with them out in the desert torturing a man who had done one of them an unspecified wrong, dousing him in gas and setting him on fire.
If the film had stayed here or hereabouts, things would have been significantly better. But the next time we see them, their numbers are inexplicably reduced to a level where they could have their gang meetings in a phone-box. Worst still, writer-director Redding instead chooses to dilute his material with a bunch of truly dreadful supporting characters, who range from superfluous down to the point that you will be praying for a power outage to save you. In the former category are a passing band, Glam Puss, whose van breaks down on their way to a gig, and who have to hang out at the ladies' establishment for a couple of days. They do actually provide the only genuine laugh in the film, with their reactions to a story from Mother's earlier years. Further down the scale, at "gratingly cliched," are a pair of corrupt cops who spent their time hassling and shaking-down citizens, when not hanging out at a strip-club, whose owner is played by Ted V. Mikels, the infamous director of some god-awful works we've covered here before. That the makers think him deserving of a cameo should be seen as a warning of what to expect.
Right at the bottom of the barrel, however, are the "comedic stylings" of Rusty Meyers as Hawksmeir, an Azerbaijani tourist. Within two minutes, you'll be left with deep appreciation for the comparative subtle understatement that was Borat – indeed, through in a Chinese store-owner who is less convincing than Mickey Rooney in Breakfast at Tiffany's and you've got something which is embarrassingly unfunny at best, and quite possibly offensive [and, don't forget, I'm someone who loves Ilsa, She-Wolf of the SS, so do not offend easily]. Almost as annoying is the soundtrack, which appears to consist largely of bands who put the director on the guest-list or something, and is rarely less than aggravatingly intrusive. These, together with random acts of motiveless (and, apparently, pointless) violence by Mother and her crew, dominate proceedings until the last quarter, where a drug deal with another biker gang, the Rebel Cocks, goes wrong, leading to the final confrontation.
Great B-movies take interesting central characters, then put them in situations that drive the storyline forward, and possess a consistent style and approach that complements the content. This merits a marginal passing grade on the first category, but fails utterly at the second, and Redding appears to use every special effect available on his camcorder, resulting in a lurid mess. A decent idea ends up chewed into pulp, then vomited out onto your screen.
Dir: Regan Redding
Star: Brenna Roth, Sara Plotkin, Sarah French, Rose Gorlano