"Not sure if serious…"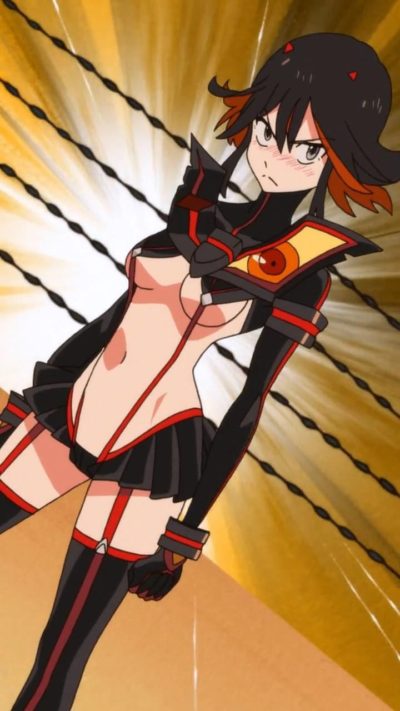 After I watched the first episode of this show, I was sure it was a delicious parody of anime shows, particular the "super-powered high-school" genre. It seemed to be taking the concepts of shows such as Sailor Moon, say, and ramping everything up to 11. The violence, in particular, is somewhere beyond Dragon Ball Z in terms of excess, except with copious additional amounts of arterial spray – though people survive far beyond the point at which any normal person would be a desiccated husk. I mean, just look at that heroine's outfit on the right. They cannot be serious, can they? But the longer this went on… the less sure I was whether it was a parody. If it is, it's an impressively straight-faced one.
The setting is Honnouji Academy, a Tokyo high school ruled over by Satsuki Kiryuin (Yuzuki), who runs the place as a neo-fascist regime, enforcing her will through selected pupils. Her chosen ones are enhanced by "Goku uniforms" of various levels, made from a strange substance called life fibers, which give the wearer superhuman abilities. But into this comes Ryuko Matoi (Koshimizu), a transfer student with an agenda all her own – as well as her own enhanced uniform, a sentient outfit called Senketsu (Seki), and half of a pair of giant scissors, which she starts using to take out Satsuki's minions. For Ryuko is seeking the killer of her father, the scientist who developed Senketsu, and seems like Satsuki played a significant role in that murder.
There's more. A lot more. Suffice it to say that just about no-one here is quite what they seem, right down to the life fibers, and by the time you reach the final episode, loyalties and alliances have gone to a completely different landscape. For something which feels like it should be shallow, tongue in cheek and certainly has copious amounts of fan service (albeit being fairly even-handed in its OTT depiction of both sexes), there's clearly considerable effort gone into the plotting. But, let's be honest, the main focus here is on the fights, as Ryuko first makes her way up the chain of command toward her nemesis, and then discovers the truth about what's going on and has to recalibrate her sights. There's hardly one of the 24 x 25-minute episodes which does not consist of at least one-third major, major animated mayhem, with Ryoko beating the tar out of one or more enemies, and taking as much damage as she receives.
As such, it does get somewhat repetitive – if you've seen Ryuko's transformation sequence once, you've seen it several dozen times – and there isn't much sense of escalation to the action. But it is brashly hyper-energetic, relentlessly female-driven, largely romance free and perfect for viewing in small, highly-caffeinated doses. If only I could figure out whether or not it was intended to be one big in-joke or not, I know whether or not to feel guilty about enjoying it.
Dir: Hiroyuki Imaishi
Star: Ami Koshimizu, Ryoka Yuzuki, Aya Suzaki, Toshihiko Seki