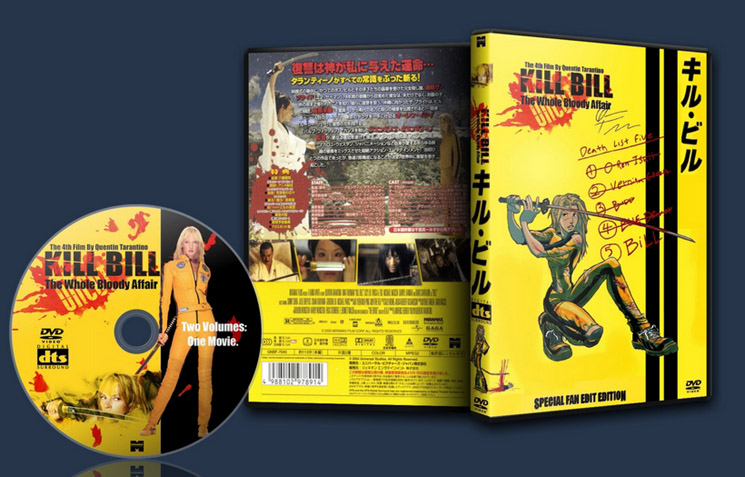 "It's mercy, compassion, and forgiveness I lack. Not rationality."
Today marks the 10th anniversary for the release in the United States of Kill Bill, Volume 2, completing the saga of The Bride and her quest for vengeance over the man who stole her daugher, killed her husband at the altar and left her in a coma. In honour of this date, we watched the assembled compilation known as Kill Bill: The Whole Bloody Affair. While this has never officially been released – despite regular claims by Quentin Tarantino that he was about to start work on it – the New Beverly Cinema in Los Angeles was allowed to show it in March and April 2011, its second public screening since the Cannes Film Festival of 2004 (there was one at the Alamo Drafthouse).
This helped lead to bootleg editions circulating through the usual sources online, where fans edited the previously-released versions together, to simulate Tarantino's vision as closely as possible. Of course, these aren't perfect, if QT's claims of an extended anime sequence are to be believed. But I'm not inclined to wait around any longer – it's entirely his own fault I still have not bought a copy of either film, even though they are certainly iconic in our genre. So, how does the combined version play? And a decade after the saga came to its bloody conclusion, does the story still hold up? [Note. This will be less a standard review than a series of feelings.  If you want a review, I refer you to the ones written at the time for Volume 1 and Volume 2.  I suppose I should also insert a spoiler warning for the rest of this piece. Though if anyone reading this hasn't seen both films already, you pretty much deserve to be spoilered!]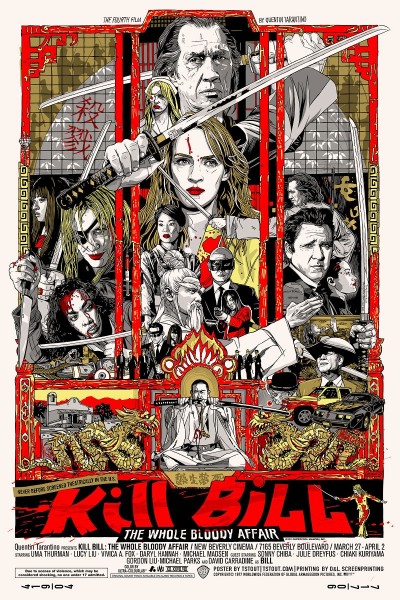 In terms of content, there isn't much alteration, with the only real change, a small but significant cut at the end of Volume 1. What's removed, is Bill's line, "Is she aware her daughter is still alive?" This means neither audience nor heroine know this, until she shows up at Bill's house for the final confrontation. [I have to say, her daughter certainly doesn't seem like a four-year old either.] Rather than substance, the biggest difference for me was stylistic: the overall balance seemed more even, as a single entity, than seen as two separate pieces months apart. Volume 2 seemed excessively talky on its own. While that's still the case, it's to a significantly lesser degree, being balanced directly by the first half, where The Bride engages in actions, not words. Indeed, the only person she kills in the second part is Bill, a sharp contrast to the pile of corpses left in her wake during its predecessor. His death still feels somewhat rushed, and it's a shame the original ending – a swordfight between Bill and Beatrix, clad in her wedding dress, on the beach – couldn't be filmed, because the production went over time.
My viewing of the film now is also altered, by having seen over the intervening decade, more of the movies which had influenced Quentin, in particular Lady Snowblood and Thriller: A Cruel Picture. I've not been a particular fan of this aspect of Tarantino's work, since the whole City on Fire/Reservoir Dogs thing; I find it gets in the way of enjoying his films, if you're frequently being reminded of other movies. This kind of homage still works better when it's slid in more subtly, for example Vernita Green's pseudonym for her new life being Jeanne Bell, likely a reference to the actress who was the star of the 70's blaxploitation pic, T.N.T. Jackson. [And, of course, Green's daughter is called Nikita…] I have to say, QT's foot fetish seems a lot more blatant now than it did at the time. The most obvious case is when The Bride is trying to regain control of her toes in the back of the Pussy Wagon, but Sofie Fatale's feet also come in for some attention. Again, perhaps subsequent knowledge plays into the viewing experience.
10 Favourite Lines from The Whole Bloody Affair
Vernita Green: Black Mamba. I shoulda been motherfuckin' Black Mamba.
O-Ren Ishii: The price you pay for bringing up either my Chinese or American heritage as a negative is… I collect your fucking head. Just like this fucker here. Now, if any of you sons of bitches got anything else to say, now's the fucking time!
The Bride: Those of you lucky enough to have your lives, take them with you. However, leave the limbs you've lost. They belong to me now.
The Bride: This is what you get for fucking around with Yakuzas! Go home to your mother!
The Bride: I want them all to know they'll all soon be as dead as O-Ren.
Budd: That woman deserves her revenge and we deserve to die.
Pai Mei: What if your enemy is three inches in front of you, what do you do then? Curl into a ball? Or do you put your fist through him?
Elle Driver: I killed your master. And now I'm gonna kill you too, with your own sword, no less, which in the very immediate future, will become my sword.
The Bride: Before that strip turned blue, I would have jumped a motorcycle onto a speeding train… for you. But once that strip turned blue, I could no longer do any of those things. Not anymore. Because I was going to be a mother.
Bill: You're not a bad person. You're a terrific person. You're my favorite person, but every once in a while, you can be a real cunt.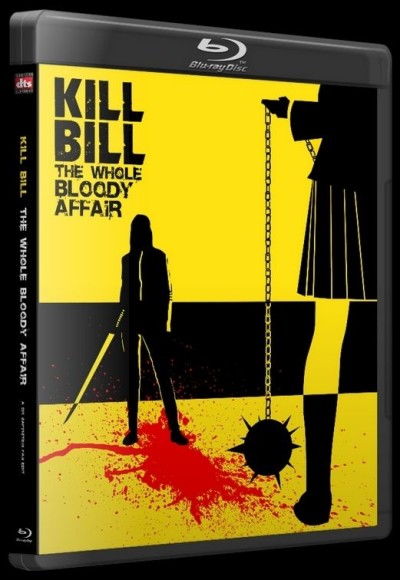 What hasn't changed is the sheer, unadulterated awesomeness of the fights, as jaw-droppingly brutal and intense as they were ten years ago. Yuen Wo-Ping certainly cements his position as the most inventive and effective martial arts choreographer in history. Though this version has the entire House of Blue Leaves fight in colour, the arterial spray becomes so obviously excessive, as to reduce its overall impact. Much love must also now go to someone barely known at the time, now carving out her own niche: stuntwoman and Thurman double: Zoë Bell. Bonus fun is now had, watching the battles and going, "Zoë… Zoë… Uma… Zoë… Uma… Zoë." [That's probably fairly close to the correct ratio!] The anime sequence depicting O-Ren Ishii's early years is still fabulous and lush, revenge foreshadowing The Bride's. You can see why, in 2006, Tarantino floated the idea of further films in a similar style, telling of Bill's and Beatrix's origins. Although, like all the other Kill Bill sequels he has floated over the years, Quentin's mouth appears to be moving much faster than any actual production.
The combined version does probably run about 30 minutes too long, with Volume 2 in particular need of tightening up. It doesn't so much reach a climax, as approach it as a limit. Bill's burbling on about comic-book superheroes is one of those cases where Tarantino's voice becomes louder than that of his characters (see the first half of Death Proof for a long, drawn-out example of this, perhaps the most self-indulgent dialogue in a filmography largely driven by self-indulgent dialogue). I also remain somewhat skeptical in regard to the deliberate misorder of Beatrix's revenge. O-Ren Ishii is the first actually killed, according to The Bride's list, yet we begin with her encountering Vernita Green. While that made some sense when the film was in two volumes, providing a spectacular encounter to end the first half, that's less the case here. I've never found a satisfactory explanation for quite why Green wasn't simply #1 on the list. But I guess, messing up the timeline is just what Tarantino does.
However, let's cut to the chase – with the elegance of a pissed-off bride wielding a Hattori Hanzo sword. This remains one of the finest examples of action heroine cinema to come out of mainstream Hollywood, and arguably, hasn't been matched in the ten years since. And it's not purely for The Bride: O-Ren, Vernita, Elle and GoGo all deserve acknowledgement as memorable characters, any of whom could stand on their own. Even as someone who can generally take or leave most of Tarantino's directorial work – I think he's a better screenwriter – I can't deny what he crafted here is an undeniable, four-hour classic of the genre.
"The lioness has rejoined her cub, and all is right in the jungle."
Gallery: Volume 1
Gallery: Volume 2