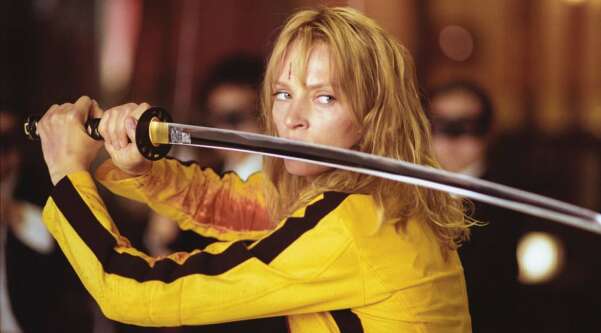 " Here Comes 'The Bride'…"

I don't like Quentin Tarantino. In fact, every time I see his smug little face, I have to resist the urge to hit something. I do admire his talents as a scriptwriter, but think he needs someone else to rein in the pop-culture references and other self-indulgent excesses which pepper his work. That's why I prefer From Dusk Till Dawn, Natural Born Killers and True Romance, and find Reservoir Dogs, and especially Pulp Fiction, very over-rated. I have no interest in hearing about the meaning of Madonna songs, or knowing what they call quarter-pounders in France. And don't even get me started on his lack of ability as an actor…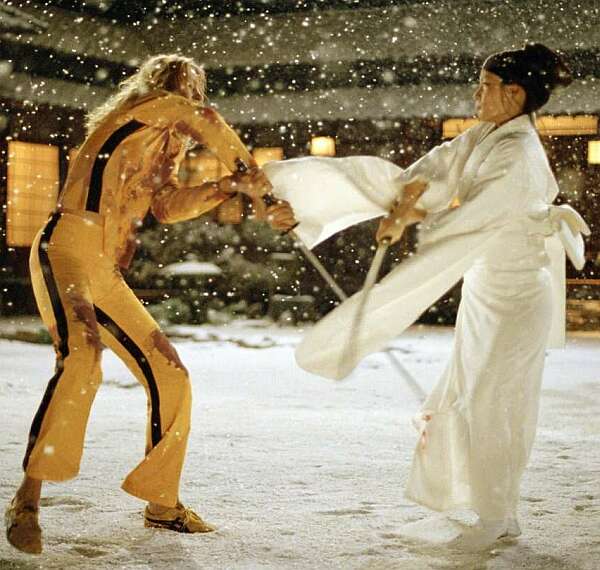 There is also the nasty question of how much of what is praiseworthy, is actually Quentin's own work. If you've seen the infamous Who Do You Think You're Fooling?, which intercuts clips from Reservoir Dogs with very similar scenes from a Hong Kong movie made several years previously, City on Fire, you'll know what I mean. I'd rather praise film-makers such as David Cronenberg, who do more than cobble together pieces "borrowed" from other people, no matter how amusingly post-modern the results may be.
 I say this, so you know I am no drooling fanboy, and am probably inclined to be more critical than most. But I have to say, the first part of Kill Bill is almost entirely satisfactory, recovering after a shaky start. When it opened with a quote from Star Trek (of questionable relevance), I feared this was a Kevin Smith movie, rather than the brutal action pic I wanted. But such tendencies were largely kept under control, perhaps because there wasn't much dialogue in which to work smug references.
Instead, it's the soundtrack which slides into self-indulgence. You can tell Tarantino grew up in the 70's: he has rifled his CD collection yet again, mixing everything from the theme to The Green Hornet to spaghetti western music, with the overall effect leaden-footed and rarely more than painfully obvious. Yet there are more than enough wonderful moments to compensate for the odd bit of weakness.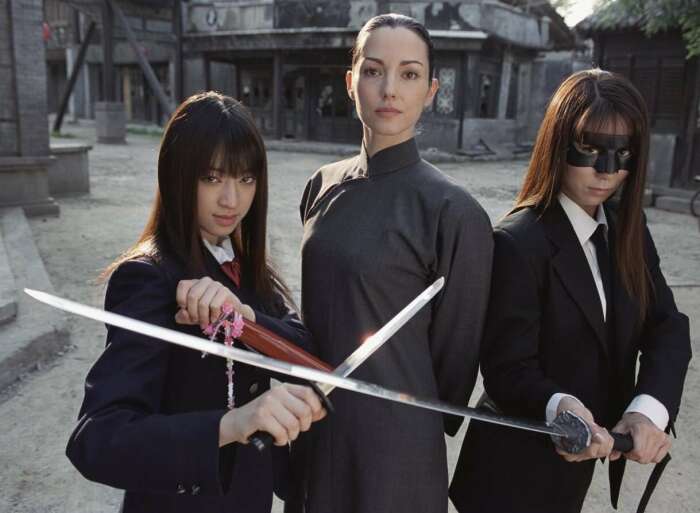 Uma Thurman is The Bride – her character is never named (it's given a couple of times, but beeped out) – a member of the Deadly Vipers Assassination squad operating under the eye of Bill (David Carradine, not yet seen). When she tries to quit, her marriage is interrupted by the rest of the team, who kill the groom, the priest and even the guy playing the organ. They think they've killed the pregnant bride. They're wrong.
 Four years later, she wakes up in a hospital bed, with her child not to be seen. And, boy, is The Bride pissed. She vows to kill her four former colleagues, plus Bill. Volume One covers her awakening, plus the first two-fifths of her mission: Vernita Green (Vivica A. Fox), now a housewife and mother, plus O-Ren Ishii (Lucy Liu), now head of the Tokyo underworld.
She actually goes after O-Ren first; in typically maddening Tarantino style, he screws around with the timeline, and makes that the dramatic climax. Having seen her face Green, we know she survives O-Ren and returns to the States – so much for tension in the climactic battle. Okay, we know there's another whole movie, and this is probably a moot point. But why bother? Why not just make Green her first target? That, and his tendency to go for a snigger at the most inopportune moments, is why I couldn't let go completely, and love this as I wanted to.
Plotwise, there are certainly questions (spoiler alert!), though a second viewing might answer these:
How does Vernita Green, supposedly a top-rate assassin, manage to miss shooting The Bride from five feet?
After years in bed, The Bride's legs are understandably weak: yet her arms are strong enough to drag her about?
What are the police up to for thirteen hours, while The Bride wiggles her toes in the parking lot of the hospital, after killing two people and leaving the corpses in her room?
The Ladies of Kill Bill, Volume One
[Click pics to enlarge]
| | | | |
| --- | --- | --- | --- |
| Uma Thurman | Lucy Liu | Chiaki Kuriyama | Daryl Hannah |
However, there's a beautiful, horrible animated sequence early on, depicting the early life of O-Ren, which proved so completely seductive, I gave up contemplating such trivial things as whether the plot made sense. I suddenly "got" the comic-book style the film was trying to achieve, and things like, oh, The Bride's ability to bring a Samurai sword onto an airliner no longer bothered me. From then on, the movie became a delicious thrill-ride, albeit one of highly questionable morality – in many ways, that flashback also made O-Ren a more sympathetic figure than The Bride, who has (so far) no motivation for her career choice whatsoever. Liu also gets the best speech, after one of her underlings chooses to mention her mixed heritage. Fabulous stuff.
In contrast, The Bride is largely a machine for extracting revenge, particularly once she hits Japan, picks up a weapon from a master sword-maker (70's icon Sonny Chiba, as namechecked in True Romance), then heads to O-Ren's headquarters, where all hell breaks loose. Dressed in a Game of Death yellow jumpsuit, she takes out her enemy's minions in ones, two, then tens and twenties, with so much arterial spray I suspect the switches to black-and-white and silhouette were as much to avoid censorship as a stylistic choice.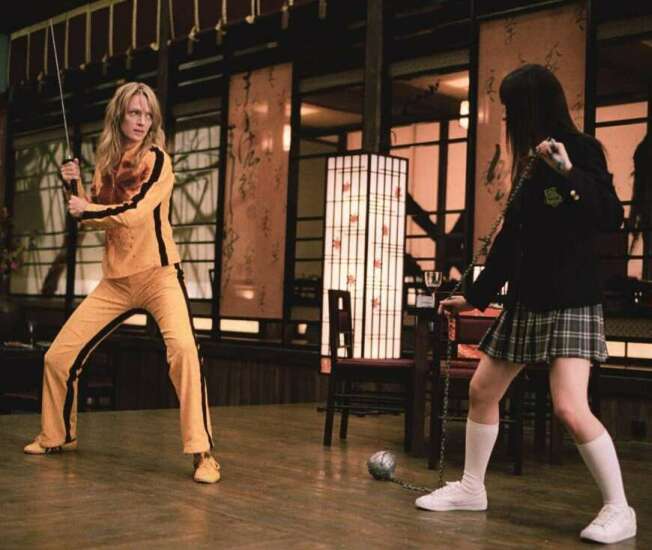 The trailers make this look as if it's non-stop action, but it isn't really – there are only a couple of proper set-pieces. The first (cinematically, if not chronologically for the characters) is between The Bride and Green, a brawl around the latter's house. Despite imaginative use of kitchen utensils, the photography is all wrong, with way too many closeups, leaving it impossible to tell whether there's any skill – or, indeed, what the hell is going on. I wouldn't be surprised if this was one of the first things Tarantino shot, since it's the kind of mistake you'd expect from someone like him, unfamiliar with shooting martial arts.
 However, this is more than made up for with the lengthy sequence in Tokyo. In particular, the battle between The Bride and GoGo Yubari (Chiaki Kuriyama), the Japanese schoolgirl who is mistress of a weapon that can kill you in a dozen different ways. It's a pity that the excruciating Japanese band, The 5678's, who are playing in the venue, don't get taken out as collateral damage. [Ten seconds of them is at least nine too many – they make Shonen Knife sound like the Vienna Philharmonic Orchestra] Regardless, much credit is due to Thurman, Kuriyama and fight co-ordinator Yuen Wo Ping for creating a fight which is simultaneously hard-hitting and original, as well as being aesthetically beautiful.
It's difficult to give a comprehensive review to a film without an ending – indeed, we're only half way through the story so far. But what we've seen so far beats up 2003's other Hollywood action heroines, the lame Tomb Raider and Charlie's Angels sequels, without even breaking a sweat. Roll on Volume 2 early next year, and I've a sneaking suspicion we'll be heading back to see this one a few more times between now and then.
[Thanks to The Reel Truth for tickets to the advance screening of this movie.]
Dir: Quentin Tarantino
Stars: Uma Thurman, Lucy Liu, Sonny Chiba, Vivica A. Fox