"Girls just wanna have… Boxing gyms?"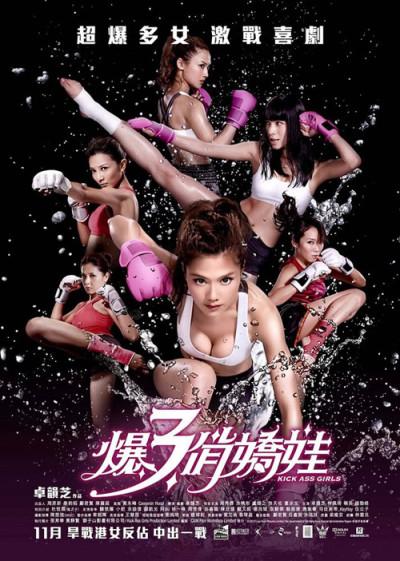 Boo (Chow) owns a failing boxing gym, and largely survives only by catering to masochistic geeks, with fantasies of being beaten up by Lara Croft, etc. To try and recoup customers driven away by her abrasive style, she hires the bubbly Miu (Lo), as a replacement for childhood friend TT (Yu), with whom she broke up after a spat over a man. Just as Miu brokers a reconciliation, the trio get an unexpected job offer, to work in Indonesia as bodyguards for the mysterious Lady Zhuge (Tong). Except, they eventually discover, this was just a lure to bring them in as fresh meat for her all-female fight club, where they must battle to the death.
The intriguingly-named director is making her feature debut, having been an actress and screenwriter, after getting her start as a teenage DJ on Hong Kong radio. It's certainly unusual to see this kind of film directed by a woman, but it seems to work, particularly in regard to the characters, who are rather more well-rounded than usual for the genre. GC also plays Zhuge's Goth personal assistant, who may be the most endearing of the lot, and she nails the cliches of that group impeccably. The film can be divided into three sections. The first is mostly comedic; the second, after the women go to Indonesia, is the least successful, and appears to have strayed in from a chick flick; however, the third includes the bulk of the action, and is a satisfactorily crunchy finale.
There isn't much of a character arc for anyone, and the interview used as a framing device is a mis-step, since it destroys any sense of suspense, over who will survive and what will be left of them. But I sense that suspense isn't particularly what this is about; it's rather concerned with light comedy, moderate martial arts, and lead actresses who generally look good doing whatever it is they're doing. As such, even if these are undeniably low-hanging fruit, it succeeds admirably, and I'll admit, I laughed more than I expected, especially in the early going. If this falls uncomfortably between about three different genres, and isn't great at any of them, by no means is it horrible at them either, and I was more than adequately entertained.
Dir: Goo-Bi GC
Star: Chrissie Chow, Dada Lo, Hidy Yu, Chris Tong

Bonus: Behind the scenes footage