"Dead woman walking."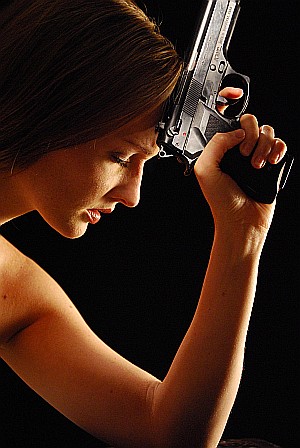 Let's start off by giving us a heroine who is dying, thanks to an inoperable brain tumour. Way to bring me down, Juncture: what do you think this is? DamesWithDiseases.com? The Hallmark channel is tha…oh, hang on. She's following a child-porn purchaser back to his house, and guns him down? Hmmm. This is clearly not your everyday Illness of the Week flick. For Anna Carter (Blackport) has decided to go out with a bang: several of them, in fact. Realising she only has a short time to live, she decides to extend her day-job as the co-ordinator for a charitable foundation, and correct the failings of a justice system: neglectful mothers, drunk drivers, selfish CEOs, they're all likely to meet impeccably-dressed vengeance.
While not exactly action-packed – it's more about the philosophy of violence than the actual execution – and for the most part, thoroughly depressing, it's a very intriguing and largely successful work. It's main strength is Blackport, perfectly cast for the role, at first looking like a china doll, emotionless and placid. It's only gradually that we see the seething mess of contrasting (and largely conflicting) emotions that are inside, since her decision is not something that has come out of thin air. There are some spotty bits of plotting here, noticed by Chris with her laser-guided Script Deficiency Spotter 3000TM. For example, why go after someone buying kiddie-porn, when you could go after someone making it? Some of the other choices of targets seem a little odd, and Anna also makes little effort to cover her tracks: even if she's dying, she would still presumably want to continue her mission for as long as possible.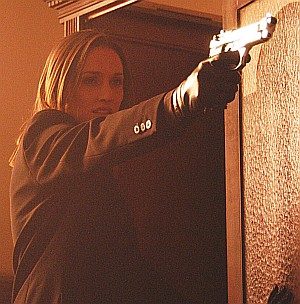 Still, there's a great deal to admire here, with every penny being squeezed out of the budget. Particular kudos to cinematographer Richard Lerner and composer Neal Acree, whose efforts enhance proceedings significantly – the results look to be the product of a significantly-higher budget, than the rumoured million dollars. It leaves you questioning what you would do in the same situation: follow Queen Latifah off on a Last Holiday, or head for the dark side, as Anna does here, with a mission for what you perceive as the 'greater good'? Certainly more thought-provoking than usual, it's intended as the first part on a trilogy, though stands fairly well on its own, I would be very interested to see how things proceed from here, as Anna heads towards closure, both personal and medical.
[The film was released on August 12 by MTI Home Video. It comes in widescreen, with a director's commentary and behind-the-scenes footage. More information can be found at MTI's website, and the film's official site.]
Dir: James Seale
Star: Kristine Blackport, Jeff Nicholson, Diana Dresser, Andrew Porter