"As therapy, beats ice-cream and a copy of The Notebook."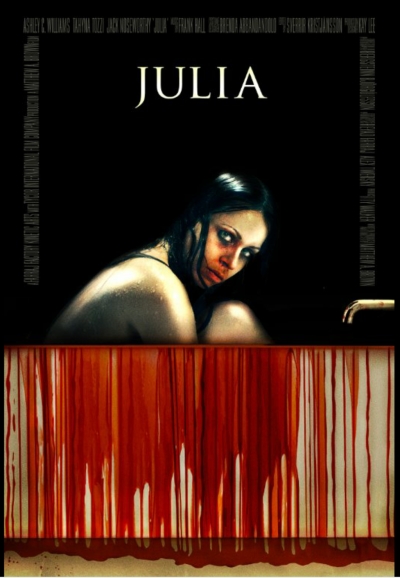 Painfully shy doctor's assistant Julia (Williams) is drugged and raped by a group of young men, but is too traumatized to report the crime to the authorities. Sitting alone in a corner of a bar one night, she overhears another woman, Sadie (Tozzi), talking about a radical therapy regime, that allows women to reclaim their self-esteem and power. Eventually talking Sadie into referring her to Doctor Sgundud (Noseworthy) who, after discovering Julia is a suitable case for treatment, allows Sadie to mentor Julia in the system. This involves seducing men, and then punishing them for their lechery. However, Sgundud's therapy comes with strict rules against taking personal action against those who abused you: rejoicing in her new=found power, Julia is not so keen on abiding by such apparently arbitrary restrictions, especially coming from a mere man. But the doctor wasn't kidding, when he warned her of the severe consequences for not following the rules.
Initially intriguing, the film becomes more problematic as it goes on, both morally and cinematically. By "flirty fishing" for men who have done little if anything wrong, and then punishing them, Julia has moved from abused to abuser, and the movie doesn't succeed in bringing the audience over the line with her, and any sympathy for her is largely lost as a result, well before she ever gets round to confronting those actually responsible for the attack. Nor does the film appear to know what to do once it gets there, suddenly shifting focus so that Dr. Sgundud becomes the Big Bad, though we know little about him or his background, beyond that he seems to enjoy manipulating the easily manipulated. On the plus side, the film looks luscious, depicting a New York saturated in neon and rain, like some kind of nightmarish car commercial. As the lead, Williams (previously seen on all fours in the first part of Human Centipede) is solid enough in terms of her transformation from self-harming wallflower into avenging succubus.
However, she doesn't bring enough personality to the role to make it memorable. Compare and contrast, say, the similarly-themed (and equally problematic, in different ways) American Mary, in which Katherine Isabelle had a far greater impact. Or Nurse 3D – also with a medical professional character – where Paz de la Huerta went over the top, dragging the viewer with her – kicking and screaming if necessary. Campbell appears to be aiming for low-key, yet ends up closer to flat-line, and I found myself tuning out in the second half as a result. While even-handed in its depiction of the sexual violence, with one scene certainly likely to have male viewers crossing their legs, there's otherwise just not enough impact. When you're going down a well-worn path, you either need to travel it extremely well, or take an interesting diversion, and sadly, this does neither.
Dir: Matthew A. Brown
Star: Ashley C. Williams, Tahyna Tozzi, Jack Noseworthy, Joel de la Fuente