"The hits just keep on coming…"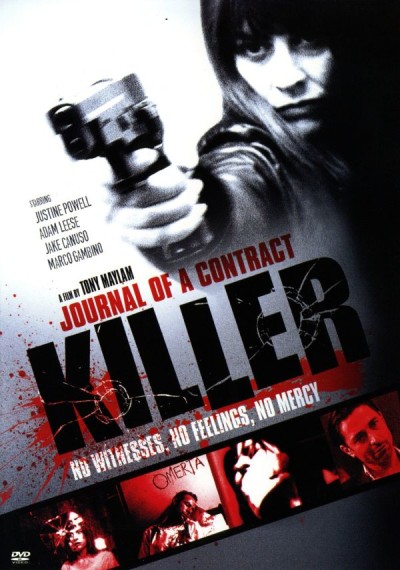 Stephanie (Powell) had been an assassin for the Italian Mafia, but had abandoned that life and settled down in London with her daughter. Years later, she is shocked to see her former lover, Alessandro (Canuso) show up at her job, and even more so when she gets an order she can't refuse from her old employer, Franco (Gambino) – to kill Alessandro. Despite some qualms, not least how the family will react to her taking out one of their own, Stephanie carrier out the mission. But soon after, she finds herself being watched by the enigmatic Sam (Leese), who says he is there to protect her. Is that really the case, or does he have an entirely different purpose?
Maylam directed one of our favourite B-movies of all time, the post-apocalyptic monster flick, Split Second, starring Rutger Hauer. This isn't anywhere near as good, though still made for an okay ninety minutes of entertainment. I think the main issue is Powell: not so much for her performance as such, more the stylistic choice made for it. I think the director and actress were going for a "dead inside" vibe, portraying Stephanie as someone who has had all emotion wrung out of them, through years of dealing death on a professional basis. It's difficult to pull that kind of thing off while still retaining any sense of a likable character; Jean Reno in Leon is an example of it done well, but the results here come across much more as a flat monotone. There's only one scene where Powell gets to let rip with unrestrained emotion, and it's undeniably the film's most effective sequence; you wish there had been more of this.
The story-line is well constructed, however, and it doesn't pull its punches; there isn't what you'd call a happy ending for anyone involved. Probably another misstep to claim the movie is inspired by true events, for that's a label abused so badly for over four decades [at least since the days of Texas Chainsaw which, while inspired by real-life killer Ed Gein, utterly does not fulfill its poster claim: "what happened is true"], everyone I know immediately rolls their eyes and refuses to believe a word of it, whether actually the case or not.  In its favour, the film does remain restrained in terms of her abilities, with no sense of Stephanie being turned into some kind of superheroine. Instead, everything she does is plausible, though I'd like to have seen them devote more time to her shift from "hooker for the mob" to "hit-woman for the mob," which seems sudden and jarring, involving little more than a random assassination of an innocent bystander. However, this restraint does perhaps lead to a lack of memorable moments; there's not a surfeit of action either, despite what the trailer below wants you to think. Just go in expecting something low key, and you'll be okay.
Dir: Tony Maylam
Star: Justine Powell, Adam Leese, Jake Canuso, Marco Gambino