"The first action heroine?"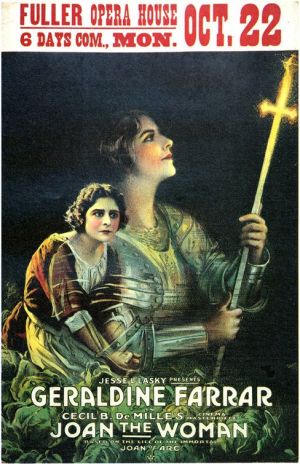 I don't watch many silent films: it's such an entirely different experience, obviously, much less driven by dialogue and more by gestures, leading to a style that can look extremely over-theatrical to the modern viewer. My efforts to enjoy the likes of Nosferatu, for example, have usually ended in my providing an accompaniment of snoring, to be honest. This was much better. Despite a running time of over two hours, this 1916 DeMille epic successfully held my interest, as it told the story of Joan of Arc. The framing device uses the then-contemporary World War I, and an English soldier (Reid) finds Joan's sword in the trenches, the night before a dangerous mission [Interesting how the English are the enemy in the back-story, but the good guys "now" – at the time of release, America was still several months from entering the war, on the British side]. He then experiences a flashback vision, taking him to medieval France, where he is an English soldier saved by Joan (Farrar) in her milkmaid days. We follow her for the story you know, becoming the inspiration for the French army to defeat the English, before her capture, trial for heresy and – I trust I'm not spoiling this – burning at the stake.
Now, don't expect Joan to go hand-to-hand with the English army here. Still, she's no nominal figurehead, instead leading her forces from the absolute front, as they break the siege at Orleans. She's first into the breach, waving the standard to encourage them on, until she takes an arrow in the shoulder. Certainly, there's no denying her heroic credentials: she's portrayed as brave and committed to doing the right thing. The film probably does a better job of establishing her as a credible leader than the Luc Besson adaptation: you can see why people would follow her, and it plays the religious elements relatively soft. And the action sequences demonstrate why DeMille's reputation for epics is well-deserved, with the battle for Orleans impressively-staged, capturing the chaos of war, without needing to resort the the blender-style editing or shaky camerawork, too often seen in modern war movies.
It's a shame there isn't more of that. Instead, after Orleans, the rest of her war campaign is covered in a caption, and the film is, understandably, less successful, when it comes to the more talky aspects of her life. In particular, Joan's trial and incarceration becomes a lengthy sequence of meaningful stares and dramatic flailing. Still, I liked the way it all wrapped around, Joan's story giving the soldier the courage to go on his mission, though the ending is more mournful than I expected. All told, for something approaching its one-hundredth birthday, this certainly didn't feel like it, and DeMille deserves credit for laying some foundations for film-makers to come.
Dir: Cecil B. DeMille
Star: Geraldine Farrar, Wallace Reid, Raymond Hatton, Theodore Roberts