| | | | |
| --- | --- | --- | --- |
| | | | |
| Joan of Arc | Ingrid Bergman | Leelee Sobieski | Milla Jovovich |
"Art imitating Arc?"
Isn't it always the way. You wait six hundred years for a bio-pic, then two come along at once. Though actually, France's patron saint has been the subject of films since the very earliest days of cinema – George Melies made a 12-scene reconstruction of her life in 1900 – but for no readily apparent reason, 1999 saw both a feature and a TV miniseries covering the topic. Before we discuss those, and some other related works, some background is probably wise, as when ever you deal with movies based on historical events. Real life is rarely cinematic, and any conflict is liable to leave factual accuracy in the dirt, going "Did anyone get the number of that truck?" So, here is a potted biography of the Maid of Orleans
Born in the French province of Champagne in 1412, to a peasant farmer, Joan (or Jeanne – I'll largely stick to the Anglicization) never learned to read or write, but was regarded by her contemporaries as a highly pious child. It was at the age of 13 that she first heard voices, but it took several years before they convinced her to leave home and help the French king, who was engaged in a battle to liberate the country from England. She presented herself to the local commander, who was skeptical at first, but was eventually convinced after Joan reported news of an English defeat before official confirmation arrived. Joan, clad in male attire to protect her modesty, travelled to see the king, and convinced him of the legitimacy of his claim to the throne, despite a faction of the court strongly opposing her influence. Her faith, simplicity and honesty won the day, and she acquired her sword, found buried behind an altar, in the exact spot she said it would be.
Although she did not engage in actual combat, her presence in the thick of battle acted as a unifying and galvanising force to the French, and she also imposed a pious attitude among her soldiers (no mean task, given they included the infamous Giles de Rais!), for example, driving away the camp whores. Joan's soldiers raised the siege of Orleans, despite her being shot in the shoulder by an arrow, and subsequent successes led to the coronation of their king in July 1429. Had she gone home at this point, as she wanted to, her life would undoubtedly have been longer and happier. Instead, she continued her efforts to free her nation, and was injured again during an abortive assault on Paris, this time in the thigh. The following May, she was captured by John of Luxembourg, who sold her to the English. Charged with heresy, Joan continued to make a good impression, eventually causing the case to be held in camera.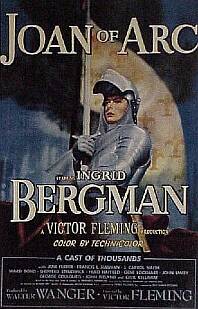 This was nothing more than a show trial, despite the efforts of those in charge to find support: according to biographer Jules Michelet, one jurist said "that everything about the trial was wrong; that it failed to respect the proper forms; that the assessors were not free; that the sessions were held in secrecy; that the accused…could not be expected to argue with learned doctors" and finished by declaring that it "was a trial to impugn the honour of the prince whose cause this girl is supporting; you should frankly say so." Perhaps wisely, the holder of these opinions opted to leave France immediately for the safety of Rome.
Inevitably, her visions were declared diabolical in nature, and she was told to recant or face the stake. Initially, she refused, but faced with imminent death, her courage understandably failed and she gave in. Her death sentence was suspended, to the chagrin of the English, who wanted her disposed of permanently. However, shortly afterwards, she resumed her wearing of male clothes – perhaps to prevent her guards from raping her, or because her normal attire was taken away. This was sufficient to have her condemned as a relapsed heretic; she was burned at the stake on May 30th, 1431. Joan was just nineteen years old. Twenty-four years later, however, a new trial overturned the verdict (albeit rather too late), beginning the process of rehabilitation which would conclude with her canonisation in 1920.
So much for the historical record. What of these subsequent productions telling her story? Are they accurate to the facts? And, perhaps more importantly, do they work as entertainment?