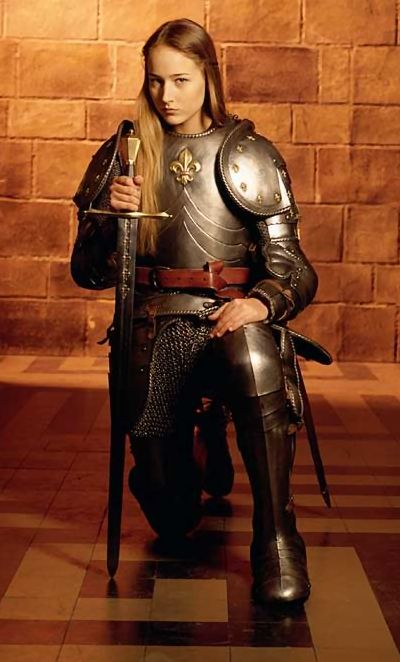 One problem with history is that viewers likely know how it ends: if you want to surprise them, why bother making a historical drama? Joan of Arc knows this, so starts with her burning at the stake. It's a bit of a double-edged sword: it robs the climax of its striking power, yet acknowledges without doubt, that this is a tragedy. The theme of manipulation is again strong here, with Joan discarded after having outlived her usefulness, despite an odd character change in the second half, where she drifts for a jarring moment into petulant bitch mode. It's almost as if the makers hinted at a megalomaniacal side, crazed by power, and her fatalistic approach to her capture rings false – probably because it is nowhere near the truth. There's more fabrication early on, with Joan an unwanted daughter who sees a friend (blind, no less) killed by enemy soldiers – must she always be some kind of post-traumatic stress survivor?
Once it hits its stride, however, there is rarely a wrong step, at least dramatically speaking – the French king again comes off as far more implicated in Joan's death than evidence suggests. Neil Patrick Harris is convincing as Charles, who moves from self-doubt to certainty in his divine right to be king, then on to using that power against the one who put him there. Peter O'Toole too turns in a fine performance as Bishop Cauchon, though more facts are tampered with, allowing him to act as Charles' spiritual advisor when he was actually always on the English/Burgundian side. That it's a TV miniseries is apparent, with 15th century France populated by remarkably clear-skinned and straight-teethed people. There's even hints of romance between Joan and her companion, Jean de Metz, which serves little purpose. The battle scenes, too, are all but bloodless – I wasn't expecting the decapitations and arterial spurting seen in Besson's film, but I didn't really want the Middle Ages, sanitized for my protection. Even the guy dying of plague looks pretty good. [Chris noted a glaring continuity error at the end: on her way up to the stake, Joan is wearing shoes, but by the time she gets there, she's barefoot!]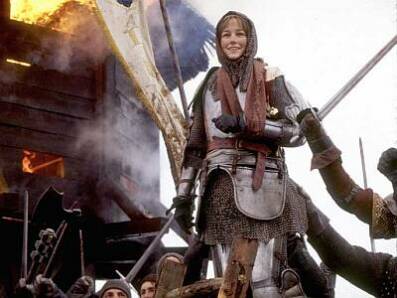 However, the main difference between this and The Messenger is that Joan of Arc is convincing. Perhaps with the advantage of having extra time (the DVD of the miniseries runs 189 minutes), they make the effort to show her interacting with other characters, and Sobieski's calm, complete assurance is a striking contrast to Jovovich. The viewer can see why people would believe her, and it naturally follows they will too – Sobieski's Emmy nomination was entirely well-deserved. Despite playing fast and loose with the facts (another example: Joan's brother was not killed in battle, but lived to see her trial verdict overturned), this strong central performance holds the film together and, with the aid of the other fine actors, makes it eminently watchable. It may not be historically accurate, but it does a fine job of explaining why her myth is still honoured in the third millennium, without coming down in one camp or the other regarding the source of her visions. There are few TV miniseries worth watching, and fewer still worth owning, but this one comes highly recommended.
Dir: Christian Duguay
Star: Leelee Sobieski, Neil Patrick Harris, Peter O'Toole, Chad Willett