"The Leung and the Restless"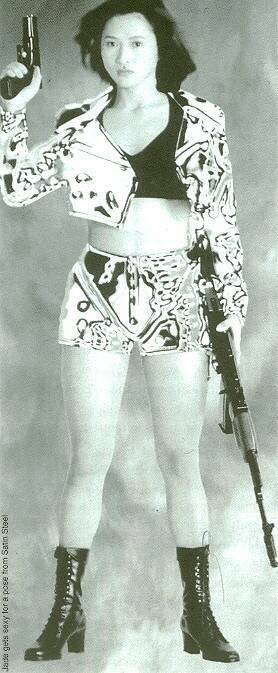 The 1980's were the Golden Era for action heroines in Hong Kong cinema. Names like Cynthia Khan (a.k.a. Cynthia Yeoh), Michelle Khan, Yukari Oshima, Cynthia Rothrock and Moon Lee all came to prominence in the decade. Just sliding in before the bubble burst was Jade Leung, who came out of nowhere to win Best Newcomer at the Hong Kong Film Awards for her performance in 1991's Black Cat. Jade was born in the then-British colony, November 23rd 1969, but spent four of her later teenage years in Switzerland, where she studied fashion and learned French. In 1990, she returned to Hong Kong and was one of 200+ actresses to audition for Steven Shin, director of Black Cat. She won out, despite her lack of experience, and underwent a rigorous training program to get in shape for the movie.
Its success, particularly in international markets (when shown as part of a series at the National Film Theatre in London, it pulled a bigger crowd than Drunken Master 2) lead to her being signed to a long-term deal by D&B Films. Unfortunately, the studio wasn't around long enough to fulfill its end of the bargain, and Jade has been bouncing around, in search of adequate roles ever since. She hasn't always been successful, saying of Fox Hunter, "There is no sense whatsoever to the movie's content… It was also the most arduous, most painful movie I have done."
Mind you, unbiased observers would likely point to Enemy Shadow in that category – during the filming of that one, Jade was badly burnt when a stunt went wrong. "When I opened my eyes, I was enveloped by blistering flames. During that moment, many questions that I had never thought of before flashed across my mind, there was a thin fine line between life and death. Afterwards, remembering that the camera was rolling in front of me, they were waiting for me to dart out to conclude the day's work, I ignored everything and made a dash." The near-fatal accident can still be seen in the movie.
While most of her contemporaries have since left the industry – for example, Moon Lee now runs a well-respected dance studio – Jade Leung continues to make films. She has also appeared in TV dramas, such as Battle Against Evil, and written a diet book, though as titles like 2000's Black Cat in Jail or last year's Black Cat Agent Files suggest, she has to some extent never escaped her most famous role. Jade has never achieved the international renown of Michelle Yeoh, and remains little known outside her native land. As we'll see, this is perhaps unsurprising, because her filmography struggles to get past mediocre, and she has largely dead-ended in low-budget quickies. Yet, as one of the few remaining active action heroines working in Hong Kong, she probably deserves more respect and coverage than she has so far received. Here's a look at some of the post-Black Cat entries in her filmography.
See also: 1992 interview with Jade Leung, taken from Eastern Heroes.