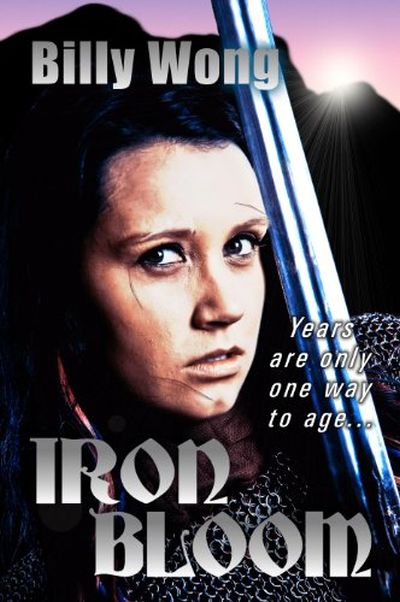 This first book in Wong's Legend of the Iron Flower series is one I got for my Kindle app at a time when it was being given away free. I only read books that way to see whether I consider them worth buying a copy –and in this case, the print edition is now on my book shelf. As a first novel, it's not unflawed, but I liked it well enough to support the author by buying a copy, and plan to continue reading the series.
The Legend of the Iron Flower takes place in a medieval-style fantasy world; it's sword-and-sorcery pulp, with much more emphasis on swords than sorcery. Our heroine, Rose Agen, is a teenage girl here (the succeeding novels and short e-stories follow her career into the ensuing years, when she's older.) Rose was born to a snow-bound mother in the midst of the coldest winter in memory, with the firewood gone, and survived. She grew to be a tall, big-boned girl with a matching physique, and an iron constitution; people call her "god-touched" or a "freak" (sometimes in the same breath). Among the youth in her village, she's the best wrestler, and like the others has fenced some with wooden swords, just for the fun of it. But her life takes a different turn when she kills her first man (in self-defense) at the age of 15; and over the next couple of years, a LOT of men follow him to the grave.
A genuinely ethical person who cares about others, Rose takes up the sword only to protect innocents; she sees her ability as carrying with it a duty. She kills only the aggressively wicked, and prefers nonviolent approaches when that's possible, but the burden of taking many lives (not all of whom, as she recognizes, are as evil as others, and some of whom may have people who love them) still weighs heavily, and believably, on her. Sometimes she sees herself as a "monster," and she can agonize over whether she's too quick to resort to the sword. These conflicts are intensified when she meets up with a sect of philosophically-based based pacifists, and she and their young leader, Ethan, fall for each other. (Teenage love here leads to teenage sex; but Wong only refers to this directly in one place, and handles it very tastefully; there's no explicit sex.) I didn't see the romantic complication as cheapening the philosophical debate; rather, I saw it as intensifying the stakes in the issue, and adding to its emotional force.
The internal and external debates here are simple but serious, and not superficial because they're simple. Like Rose (and Wong), I come down on the side of believing that defensive violence is sometimes necessary; but don't revel in the necessity; and I think the kind of discussion that takes place here is worth having and thinking about. (Contrary to what those who see fantasy literature as "escapist" imagine, Rose's fantasy world isn't the only place where brigandage, war and tyranny occur; they seem to be pretty widespread, and to present exactly the same issues, here as well!) Rose isn't an unflawed plaster saint who never makes bad choices; besides teenage sex, she engages in some teenage drinking, and abuses alcohol on a couple of occasions as an opiate for her stress and conflict. But even if I didn't approve of some of her choices, I always understood and liked her. She's a believable teen, considering that her culture seems to be one that doesn't coddle adolescence, and expects kids to grow up quickly; her age shows in her wanderlust and thirst for adventure, and in her relationship with her parents (loving, but not without conflicts). But she's mature in many of the ways that count.
Rose is a round and dynamic, well developed character. Some of the secondary characters, like Ethan and mercenary warrior Angela (we actually get two fighting ladies here for the price of one!) are also relatively well-drawn. Wong writes action scenes well, and he delivers plenty of them here. But even with the staggering body count and level of physical mayhem here (fighters can get beheaded, gutted, lose limbs, etc.) he doesn't wallow into unnecessarily graphic descriptions of gore; there's no feeling of a "pornography of violence" to the book. The plot has a variety of situations, and threw me some surprises at times. He puts Rose into thought-provoking situations (one in particular stands out) where the question of what response is right or wrong doesn't have easy answers. And he deserves credit for giving us a brawny, battle-scarred heroine whose looks don't conform to the Victoria's Secret party-line model of female beauty. (That doesn't mean she isn't beautiful, outside as well as inside; it just means that a thin, slight build, an unmarked face and an undamaged bust aren't essential aspects of beauty.)
As fantasy worlds go, Wong's is on the low-magic end of the spectrum. Great sorcerers practiced it in the past, and have left some enchanted artifacts and spells around, but the knowledge of magic is for the most part lost; and creatures like ogres exist, but we don't see much of them. Personally, I don't see this as a flaw. The author's world-building, though, is definitely weak. We know that Kayland is a large, patched-together kingdom forged from many formerly independent entities, that its technology is basically medieval, and that its religion is vaguely polytheistic, with an afterlife where rewards or punishment depends on behavior. But that's really about all. There isn't much sense of the culture, or of cultural differences, and both all Kaylanders and the foreign Vlin barbarians apparently speak the same language.
Wong's writing style is barebones and minimalistic, lacking in texture and polish. He sometimes falls into the trap of telling rather than showing, and at times fails to provide information we'd like, and which would enhance the story. (For instance, we're not even told Rose's age, or given a physical description of her, until well after she's introduced; and I'd have liked a lot more description of Millie's underground cave.) Dialogue often sounds like it's written to serve the plot, not to reflect the way these characters would actually speak in the situation. (And while the author avoids obvious Americanisms in the character's speech, it is a bit odd in this type of fantasy world that everyone has first names, like Eddie or Millie, that could have been taken from any modern American list of baby names!) It's not true, IMO, as some reviewers have complained, that Wong's plotting is aimless; although it's somewhat episodic, it does have a structure of story arc and resolution. But it can seem aimless because it appears to be occurring in a time vacuum; we learn that Rose has turned 16 at one point, but there are very few indications of how much time passes in different parts of the tale, and no notices of seasonal changes, so there's very little to peg an internal chronology on.
For me, perhaps the most serious weakness is that Rose is TOO incredibly resilient and hard to kill. Action heroes and heroines, of course, tend to be super-tough and larger than life; but nonetheless, we do have the feeling that Conan or Jirel of Joiry are mortal. True, Rose can be hurt seriously, bleed copiously, feel pain galore, and be laid low for a time by wounds. But on at least four occasions, she survives wounds that she and everyone else thinks are mortal, and realistically would be; and she can keep fighting long after any normal human, no matter how tough, would be unconscious. (That's true of some other characters, too.) That makes for spectacular fight scenes, it doesn't make for realism. It also reduces the stakes in her battles, and makes her harder for me to relate to (just as I don't personally relate as well to superhero characters as I do to normally-abled humans).
In the same vein, I would really question whether any human being could sustain a 30-foot drop onto solid rock without serious injury. And on one occasion when Rose comes up against a magically-empowered adversary, the magic just wimps out at a crucial point to allow her overcome it, which I thought was a cheap way out on the author's part. So while I did like the book, these drawbacks kept me from rating it more highly overall than I did. As noted above, this is the author's first novel, and he's a relatively young writer. His stylistic skills are likely to improve with practice; and they show to better advantage in short fiction. I've read several yarns in his Tales of the Gothic Warrior story cycle (set in the present, and featuring Freya Blackstar) and liked all but one; I can also recommend the stand-alone e-story "Last Minute Replacement," and one of Side Stories of the Iron Flower, "Bad Milk," to action heroine fans. (The latter is the only one of Rose's other adventures that I've read so far, but these two won't be the last!)
Note: Bad language in this novel is relatively infrequent, and strictly of the d-word or h-word sort.
Author: Billy Wong
Publisher: Self-published, available through Amazon, both for Kindle and as a printed book.
A version of this review previously appeared on Goodreads.