"An R-rated version of Home Alone"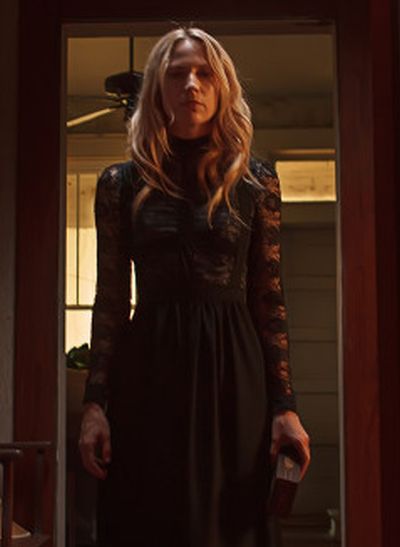 Since the death of their father, brother and sister Conrad and Anna (Riesgraf) have been each other's companions. Virtually sole, in the latter's case, as Anna suffers from severe agoraphobia, which means she hasn't left the house for a decade. After Conrad dies of cancer, her only visitor is Meals on Wheels delivery guy, Dan (Culkin), who dreams of escaping town, but lacks the means. In a moment of empathy, Anna offers him a slab of cash: he declines, but after mentioning it in the wrong place, three criminals, led by J.P. (Kesy), decide to pay the house a visit. They're expecting Anna to be at Conrad's funeral, unaware of her condition. They are even more wrong about how helpless it makes her.
Big Sky also used agoraphobia as a plot point, but where this works better, is it uses this as a starting point, rather than becoming the defining characteristic of its heroine. We get an indication, not only of where her condition came from, but how it has affected her in other ways. That helps fill things in after the big reveal, where the tables are suddenly turned on the home invaders, and the hunters become the prey. It's somewhat disconcerting, since this comes almost out of nowhere and leaves you going "Huh?" for a bit, until things are explained. Better not reveal too much there: let's just say, this trio of robbers are not the first to enter the house and get what they deserve, instead of what they want.
Originally known as Shut In, before a competing (and larger-profile) film with the same name forced a title change, you do have to wonder if less would have been more. The story eventually unfolding here is rather more convoluted than necessary, except for the desire to provide Anna's mayhem with moral justification. It isn't needed, assuming you agree that if you invade someone's home, your right to life is immediately severely curtailed. You're Next was better in this area: it didn't bother with any imperative; for its heroine, all the motivation she needed was her own survival. I'm also not quite sure about the layout here – it's the same problem we saw in Sweet Home, where it feels as if a floor-plan would help figure out how the various pieces fit together.
However, if you're looking for a darker version of To Catch a Predator, with additional (mercifully, staged) violence against a budgie, this should be satisfactory. Riesgraf is best known for her work as Parker in Leverage, and you could almost speculate on this being some kind of prequel to the show. It would make for a rather twisted shared universe, to be sure…
Dir: Adam Schindler
Star: Beth Riesgraf, Jack Kesy, Rory Culkin, Martin Starr
a.k.a. Shut In