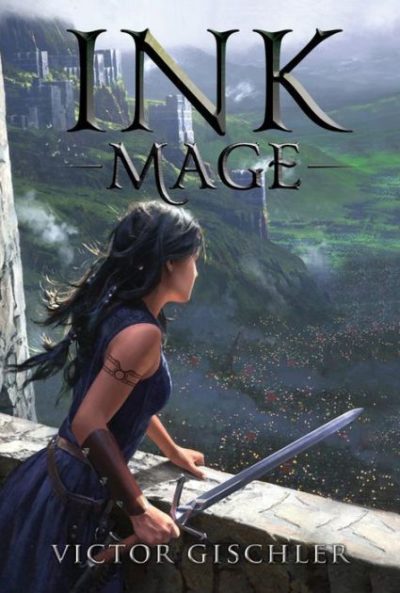 The small duchy of Klaar has been impervious to invasion, due to a secure location offering limited access. But when betrayal from within leads to its fall, to the vanguard of an invading Perranese army, heir apparent Rina Veraiin is forced on the run. She is fortunate to encounter one of a handful of people who know how to create mystic tattoos that will imbue the recipient with magical abilities. With her already significant combat skills radically enhanced, and her body now also blessed with a remarkable talent to heal, Rina can set about trying to recover her domain. It won't be easy, since the king is not even aware the Perranese have landed. But she has help, albeit in the motley forms of a stable boy – sorry, head stable boy – a gypsy girl and a noble scion, whose charm is exceeded only by his ability to irritate.
Despite the young age of the protagonist, who is still a teenager, this isn't the Young Adult novel it may seem. It's rather more Game of Thrones in both style and content, with the point of view switching between a number of different characters. Some of these can be rather graphic, particularly the story of Tosh, an army deserter who ends up working as a cook in a Klaar brothel. But even this thread turns out more action-heroine oriented than you'd expect. For the madam gets Tosh to train the working girls in weaponcraft, so they can become an undercover (literally!) rebel force against the Perranese. Can't say I saw that, ah, coming…
Gischler seems better known as a hard-boiled crime fiction author – though I must confess to being probably most intrigued by his satirical novel titled, Go-Go Girls of the Apocalypse! The approach here does feel somewhat fragmented, yet is likely necessary, given the amount of time Rina spends galloping around the countryside. It may also be a result of the book's original format as a serial. However, it translates well enough to a single volume, and I found it became quite a page-turner in the second half. There, Rina readies her forces to return to Klaar, and take on the occupying forces, which have settled in for the winter.
The tattoo magic is a nice idea, effectively providing "superpowers" that can help balance out the obvious limitations of a young, largely untrained heroine. It is somewhat disappointing that, after significant build-up involving the Perranese's own tattooed warrior, the actual battle between him and Rina seemed to be over in two minutes – and decided through an external gimmick, rather than by her own skill. In terms of thrills, it's significantly less impressive than a previous battle, pitting her against a really large snake, or even the first use of Rina's abilities, which takes place against a wintry wilderness backdrop – more GoT-ness, perhaps?
Such comparisons are unlikely to flatter many books, and this is at its best when finding its own voice, as in the tattooing, or the gypsies who become Rina's allies. He does avoid inflicting any serial cliffhanger ending on us, instead tidying up the majority of loose ends, and giving us a general pointer toward the second in the three-volume series. Overall, I liked the heroine and enjoyed this, to the point where I might even be coaxed into spending the non-discounted price for that next book.
Author: Victor Gischler
Publisher: 47North, available through Amazon in both printed and e-book versions.