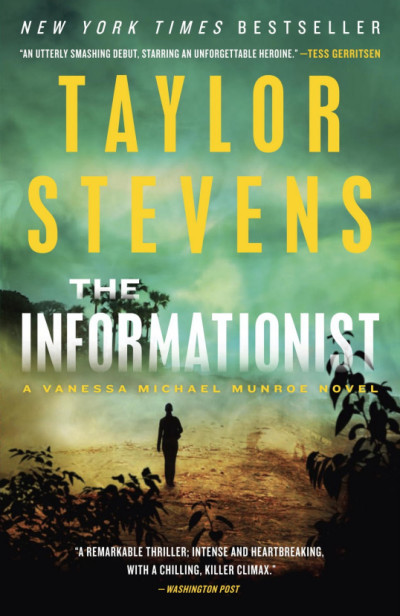 The jacket copy for this opening volume of the author's Vanessa Michael Munro series gives the impression that our heroine's adolescent career, as part of a gang of gunrunners in the African jungle, lasted for years. It didn't –she fled from Africa at the age of 15, after about a year with the gang. (They also weren't mercenaries, and their smuggling operations included drugs as well as guns.) Otherwise, the information is accurate as far as it goes. We meet her nine years later, when she's 24 years old. Before we do, though, we're treated to a two-page, attention-grabbing prologue, set somewhere in West Central Africa, describing a terrifying experience which we quickly realize is related to our main plot, and which gives us a little bit of information and a whole lot of tantalizing ambiguity.
Four years later, Michael is approached by super-wealthy oil tycoon Richard Burbank, who wants to hire her to trace the now four-years-cold trail of his adopted step-daughter, who vanished somewhere in Africa on the cusp of adulthood. Finding a missing person isn't something she's ever done; she's an information broker, a compiler of deep background on foreign countries, for governments, NGOs and corporations. But she's extremely good at this, blessed with a facility for learning languages, strong computer skills, a powerful intelligence and single-minded focus and determination.
She's also a mistress of disguise, who (with her hair cut short and her bosom tightly bound) can pass for a male if she needs to. Some reviewers focus on this, and on her preference for using her middle name, to make "androgyny" a central aspect of her character. IMO, this idea has been overstated; her character comes across as essentially female, without any ambiguity (though she's more in touch with her kick-butt side than many women are). Passing for a male is a tactical device that can come in handy in some situations (and she's not the only fictional heroine to find it so; Madeleine E. Robins' Sarah Tolerance, for instance, does it frequently), and doesn't entail any repudiation of her femininity. As for preferring "Michael" over "Vanessa," she's not the first person in literature or real life to want to change the way she's addressed after a major transition in her life –especially from a traumatic period that she'd like to forget. (Her African associates knew her as Essa.) Anyway, Burbank has been assured that these skills will be transferable to ferreting out the fate and whereabouts of a person, and that Michael can succeed where others have failed.
Combat-capable females aren't as rare in literature as they once were, but her fighting skills aren't what make Michael a rather unique fictional heroine. (Though she has few peers where those skills are concerned –she's adept with both guns and blades, and could kill you with a set of car keys if she has to). She's a very complex and nuanced character, with aspects of her personality that aren't all pretty. Her missionary parents, who didn't plan for or want her, raised her in a mindset that sees God as an angry and condemning Judge rather than a loving and forgiving Father. The experiences of her African adolescence left her with massive internal abysses of guilt and anger which she uses her work to keep at bay; she has hardly any friends, and walks a psychological knife edge between moral decency and a homicidal darkness she could easily plunge into for keeps. Now, with the quest for Emily Burbank taking her back into a world she left nine years ago, she'll face external conflicts with some very nasty villains; but her most desperate and consequential battle will be inside herself, and she'll come to a moral decision that may save her –or destroy her.
Taylor Stevens' unique personal upbringing gave her a first-hand knowledge of a number of world locales; this is probably reflected in the vivid way settings in several countries on three continents are realized. (Some of Michael's formative experiences may have something in common with Stevens' own as well –though one hopes not.) The African milieu that forms the main setting is particularly life-like, with a you-are-there immediacy especially marked in the portrayal of the dangerous, paranoid Twilight-Zone nation of Equatorial Guinea, the model for Frederick Forsythe's setting in The Dogs of War (a novel that Stevens references here –conditions there haven't improved much since Forsythe wrote). Her prose style is crisp and quick-moving, with a wealth of realistic detail that lends verisimilitude. All of the major characters are fully three-dimensional, adding to the texture and emotional evocative quality of the storyline. Plotting here is a tour-de-force, with major twists and surprises in store; the quality of suspense is very taut through much of the book, and comes right down to the wire.
This is an action-adventure novel, so the reader should expect that it's going to have some violence; more than a few people are going to get killed here. None of the violence is gratuitous, and it isn't over-described for its own sake; but some readers might find one scene a bit disturbing. There's no explicit sex, but some sexual encounters are noted without being described in detail, and Michael's sexual behavior is, like every other aspect of her life, affected by the psychic damage she carries. Readers concerned about bad language should note that there's a fair amount of use of f-word, and profanity/cursing. For perhaps the first third or more of the book, this isn't so marked, but it gets worse. (A couple of the English-speaking characters could be expected to have barracks-room vocabularies, but it's less realistic when English obscenities are put into the mouth of non-English speakers.)
In a couple of place, I have a quibble or two with details. (A camera affixed to the peephole of a hotel door, for instance, would register images directly in front of it –NOT the adjacent door. And one tactical action near the end seems to have no credible reason for being done, except that it serves the author's ultimate plotting purposes.) But quibbles don't interfere with the fact that this is, overall, a very strong first novel. And, although there are sequels in the series, this opener comes to a very satisfying conclusion in itself; for readers who don't want to get sucked into another open-ended series, this book can function perfectly well as a completed stand-alone.
Author: Taylor Stevens
Publisher: Broadway Books, available through Amazon, both for Kindle and as a printed book.
A version of this review previously appeared on Gooodreads.