"A thinly connected series of action set-pieces…but what set-pieces!"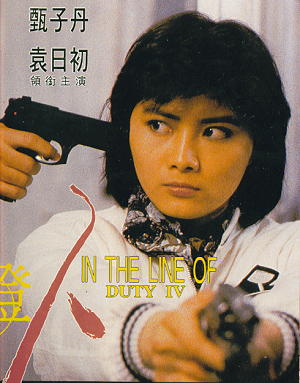 I don't think I've ever seen a HK film with more action; it seems that every five minutes, along comes another breathtaking fight or stunt sequence. Of course, when you have a master at the helm (Yuen did the fights for The Matrix), you expect a little more, but this is fabulous, even by his standards.
Donnie Yen is perhaps the most under-rated martial artist of our generation, and watching him here, it's hard to see why he hasn't become a major star, rather than lurking in (effective) supporting roles in Blade 2 and Highlander: Endgame. For speed, agility and skill, his fights are almost without equal, and most female co-stars would be overshadowed. Fortunately, Cynthia Khan, though occasionally clearly doubled, does more than enough to keep on the same lap – the fight atop, alongside, and dangling from the front of, a speeding ambulance is eyepoppingly extreme, while her aerial battle around a lift shaft is also worthy of mention.
The story is clearly secondary to all this, but for the record, Khan and Yen are cops, one from Hong Kong, one from America, who team up to find a witness to a murder. Double-dealing and twists abound, though most are so obvious, you suspect they were just waiting for cast members to get out of hospital. :-) Interesting to see a foreign view of American cops – even Yen is a barely-controlled psychonaut. Khan is more sympathetic, but characterisation never goes beyond the most basic. However, this is an action movie, and as such, it's near-perfect, with invention, energy and hardcore guts to spare from all concerned.
Dir: Yuen Wo-Ping
Star: Cynthia Khan, Donnie Yen, Michael Wong, Yuen Yat Choh