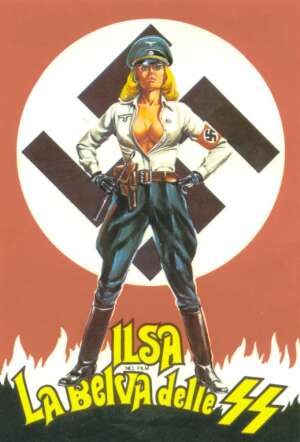 I used to have an Ilsa, She-wolf of the SS T-shirt, but only ever dared wear it once in public – the looks of hate it provoked were simply too much to bear, though I don't exactly kowtow to moral pressure or political correctness easily. And when I bought the DVD in the Hollywood Virgin Megastore, a complete stranger standing next to me commented to the effect that this wasn't the sort of thing we needed to see getting re-released. Such is the power of Ilsa.
Hence, I write with trepidation: even in the sordid yet enchanting world of exploitation cinema, She-Wolf is notorious. Three decades after being made, it remains unreleased – and possibly unreleasable – in the United Kingdom, and in our house, the DVD sat on the shelf for two years, since I feared Chris would instantly leave me if we watched it. And she is no shrinking violet, but a woman who (to my ultimate delight) regards an uncut DVD of The Story of Ricky as a fine birthday present. Luckily, Chris is right beside me as I type this, and I get to produce this article as a married, rather than divorced man.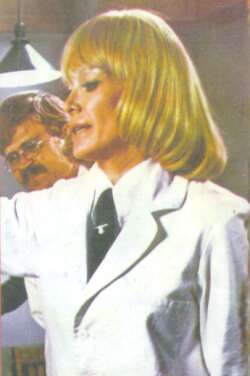 I should point out, before the inevitable accusations come in, that the mark awarded to the film is scored on a radically different scale from "normal" movies. I don't recommend this movie unless you possess a very black sense of humour, are immune to being offended by fictional material, have carefully stowed all children and maiden aunts, and switched off all moral qualms.
Even so, the question must still be asked, is a Nazi camp a suitable setting for any piece of entertainment? No, probably not. But tell that to the producers of Hogan's Heroes, a comedy set in a similar location. [Indeed, She-Wolf was filmed on Hogan's sets, and the private life of star Bob Crane, was no less sordid than most exploitation films – as shown in Paul Schrader's Auto Focus, which would make a fine double-bill with She-Wolf]. Or perhaps Schindler's List, which in my opinion is more guilty of exploiting the Holocaust (interestingly, She-Wolf never mentions the J-word – it's just a natural reaction these days to equate Nazi camps with Jews).
If I may digress for a moment, I find List a truly cynical work: Steven Spielberg performs his usual adept emotional manipulation, but what purpose is served? Like all docudramas, it alters the facts, and no Aryan Nation adherent will sit through a three-hour plus, black and white film for "educational" reasons. It seems more like a cynical, and successful, attempt to win Spielberg an Academy Award. Ask yourself an awkward question: would it have won seven Oscars if it had been about gypsies?
Like Schindler, the cinematic Ilsa was based on a real character. Ilsa Koch was the "Bitch of Buchenwald," whose practices perhaps surpassed those in the movie, including the stripping and curing of human skin – particularly from tattoed inmates – for her collection of lampshades, gloves, etc. Unlike her fictional counterpart, she survived the war, being sentenced to live in prison, but sadly, didn't live to see a twisted depiction of her life, committing suicide in 1967.
At least She-Wolf is upfront about its exploitational nature, despite an opening title which reads, in part, "We dedicate this film with the hope that these heinous crimes will never occur again." This is such an implausible claim, you can't even begin to take it seriously, especially when the next scene shows Ilsa (Dyanne Thorne) writhing atop one of the camp's inmates. We don't initially 'know' it's her (though I doubt anyone is fooled!), until she returns, dressed as the commandant of Medical Camp 9.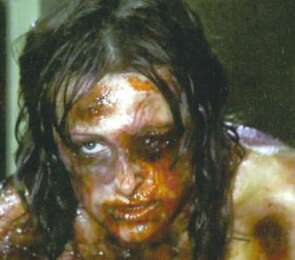 It's not long before her true persona is revealed, as she castrates her lover, fulfilling in a twisted way her promise that he wouldn't return to the camp. The arrival at camp of a new batch of inmates allows the depiction of a whole new range of potential tortures, even if there is a surprising amount of plot going on too:
Ilsa's attempts to prove women are better than men at handling pain…
Her growing infatuation with American prisoner Wolfe (Gregory Knoph)…
The prisoners' plans to revolt…
The imminent arrival of a General on a tour of inspection…
The equally imminent arrival of Allied forces.
Though, being honest, these are secondary to the depiction of a huge range of sadistic and/or fetishistic practices. Floggings, electric dildos, decompression, surgery, golden showers, bondage – it's all here, as well as good old-fashioned sexuality, making this truly a film with something for everyone. This is part of what makes for such uncomfortable viewing, it mixes the repellent and the fascinating unlike any other movie ever made – the closest I can think of would be Pasolini's Salo, but that is Art, and consequently extremely tedious. That's something you can certainly not say about Ilsa, where every few minutes brings some new unpleasantness to contemplate.
The "fascinating" would be Dyanne Thorne, whose portrayal is spot on, and without which the film would be no more than a parade of atrocities. She was already in her 40's when it was made, and it's rare, even nowadays, for a female character of that age to be shown with such unfettered sexuality. Admittedly, Thorne's German accent is awful (she can't even pronounce "Reich" correctly), but it's a captivating and iconic performance of charisma and amorality.
It's difficult to criticize the rest of the participants, since an awful lot of them seem to have suspiciously short filmographies, and I suspect pseudonyms were being used e.g. writer "Jonah Royston", lead actor "Gregory Knoph" and, of course, producer "Herman Traeger" was in reality Dave Friedman, who worked with Herschell Gordon Lewis on the likes of Blood Feast and 2000 Maniacs. The only notable name, save an uncredited Uschi Digard, is Maria Marx, playing Anna, the prisoner whom even Ilsa cannot break – ironically Marx's parents left Germany as refugees from Hitler. She was married to Melvin Van Peebles and is Mario's mother.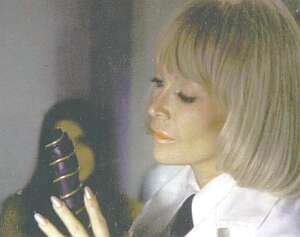 Technically, it's several steps better than you might think; there's nothing complex or innovative, admittedly, but simply being coherent and in-focus puts it several levels above many video nasties, most of which are lamentably inept. Joe Blasco's make-up effects hit the mark with disturbing frequency, though perhaps the most memorable moments are those which go beyond simple gore. For example, the dinner party entertainment, consisting of a naked woman suspended by piano wire, with her only support a steadily melting block of ice. This kind of stuff is simply wrong, yet I've little doubt worse things went on. [But for the most stomach-churning WW2 atrocity film, see Men Behind the Sun, covering the Japanese occupation of China and their human experiments]
While Ilsa wasn't the first "video Nazi" (Love Camp 7 in 1967 predates it), it is certainly the most infamous, and is perhaps exploitation cinema in its most elemental form, going places where ordinary films would never dare to tread. Others among the most notorious films of the 1970's have now been accepted into society (Texas Chainsaw Massacre, for example, now gets shown on British network TV), Ilsa still remains a pariah. If you have any interest in "polite society", merely having the film on your shelf is an act of some courage – though any acknowledgement of its power and qualities, as here, does perhaps count as reckless. :-)
Ilsa is the antithesis of the word "heroine", yet is undeniably a strong, independent female character (albeit one which proves that such traits are not necessarily a good thing), and on that ground alone, deserves recognition. There's something almost rabidly feminist about her assertions of the superiority of women, and she is certainly a candidate for the most warped, despicable, relentlessly evil female character in cinema history. At the very least, the films remind us of the fragility of history: had things been only a little different, we could be living in a society where Ilsa was the heroine…
Dir: Don Edmonds
Star: Dyanne Thorne, Gregory Knoph, Tony Mumolo, Maria Marx
[I acknowledge the invaluable contribution of The Ilsa Chronicles, by Darren Venticinque and Tristan Thompson, published by Midnight Media, without which this article would be very plain in appearance!]