"Now we know. We just don't care…"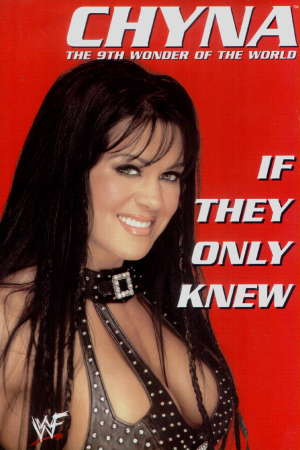 This is probably the first WWF bio from a wrestler who never won the world title. Yet Chyna made her mark, largely through her abandoning the T&A of the women's division, to take on the likes of Triple H and Stone Cold. This would seem to be an interesting angle, from which to report. So why is the result so goddamn…well, whiny? Part of the problem is that any wrestle-bio has to compete with the genius which was Mick Foley's first book, Have a Nice Day – for insight and sheer good humour, it's almost impossible to beat. Yet that doesn't mean you shouldn't bother trying. Chyna, on the other hand, runs out little more than a "woe is me!" tale about what a horrible life she had, all the way from her childhood, up until the WWF plucked her from obscurity to make her a star.
If she'd paid her dues, I might have more sympathy, but there's hardly any info on her (apparently brief) time as an indie wrestler. You get a fair bit on the training at Killer Kowalski's school, but otherwise, you can't help wondering if there are any number of other women who are more deserving of the chances she's had (Intercontinental Champion! Playboy centrefold!) and wouldn't complain about everything so much. Hell, she could always go back to her planned career as an air-hostess – indeed, this might yet be her best option if she doesn't meet with success outside the WWF soon, and that's something notable by its absence since her departure. What insights there are come from other people e.g. WWF heavyweight champ (at time of writing) Chris Jericho, who says, "Women's wrestling is kind of dead in the States almost. In Japan, it's awesome", though subsequent comments about "porky, chubby lesbians" may merit a visit from Manami Toyota and Mima Shimoda.
But the best quote comes from Luna, daugher of Maurice 'Mad Dog' Vachon: "We're shit-out-of-luck. We're not strippers. We're not bimbos. We're not empty-headed females. We like this sport. We love to entertain. We didn't want to be in this sport to be close to men – we got in this sport because we love wrestling. But SOL, baby. You know what the men have done to us? Besides paying us tons less than the men, objectifying us into eye candy, T&A, the little wet dream for the little weenies? They turned us on each other… And the real bitch is, you try and get tough, you show 'em you're into the moves and counter-moves and that you can take a dive off the top rope as good as any of them, they start calling you a man, a dyke, a 'roid junkie, a muffin diver, all that crap. SOL, Joanie, SOL." This is far more honest and to the point than anything Chyna comes up with – any chance of Luna writing a book?
By: Chyna
Publisher: Harper-Collins, 2001, $26.00