"Keeps the pot boiling energetically enough."
I've been a fan of The Asylum studio for a while. They're famous – or infamous – mainly for two things. Originally, they churned out "mockbusters", films that rode the advertising coat-tails of larger budget and more famous movies, using titles such as (I kid you not), Snakes on a Train. More recently, they are also creators of the cult Sharknado series for SyFy. However, The Asylum can and will, make more or less anything they think will turn a profit. Their quality of output does vary, shall we say. Yet I was entertained by this slice of Lifetime fluff 'n' nonsense more than expected, mostly due to effective performances from the two leads.
There's Faith Gray (Estes), whose new job as a beat cop has re-united her with Detective Paul Wagner (Kosalka), for whom she has always had a "thing." But at an incident in a local bar, he meets and ends up beginning a relationship with, Jessica Munroe (Spiro). She's a drop-dead blonde with aspirations of becoming a movie star – not something easily accomplished in Stillwater, Oklahoma. Before you can say "We'll be right back after these words from our sponsors," she's pregnant and married to Paul. Faith, however, thinks there's something not quite right about Jessica, though her investigation could be considered more as jealousy-induced stalking. It's certainly painted as such by its target.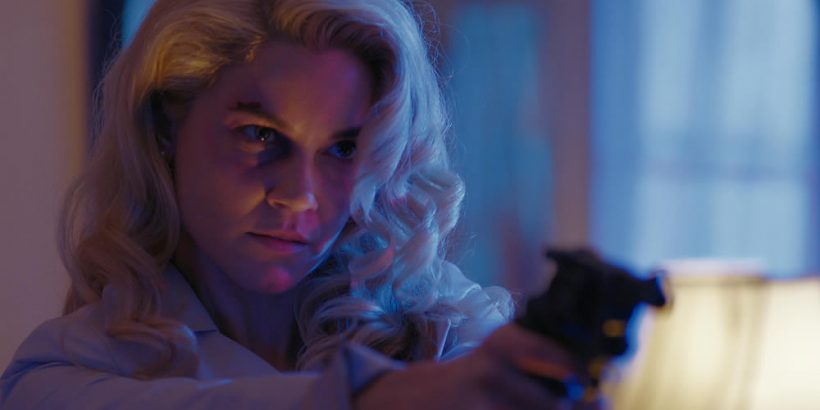 The film never tries to hide the fact that Jessica is nutty as a fruitcake. As a result, its plotting is instead very much concerned just with getting the story from Point A to B, offering few surprises. I'm not exactly convinced by the "Based on a true story" claim here. And let's not even start with the police procedures depictede: let's just say, Stillwater PD could use some re-training, and move on. Yet the pleasures outweighed the deficiencies; in particular, as mentioned, watching the mousy Faith and psychotic glam-girl Jessica face off. The latter gets most of the cinematic highlights, vamping it up to great effect. Witness, for example, her hyper-ventilating in order to place a convincingly panicked phone call to her lover. Guess all Jessica's acting classes finally paid off!
I admit, there's something fun about watching a manipulative sociopath at work: there's a reason Dangerous Liaisons is one of the all-time greats. Spiro isn't quite at Glenn Close standards, yet both she and Estes give it their all, and elevate the material to enjoyable nonsense. Even if we didn't quite get the hellacious cat-fight climax for which I was hoping, it's always good to see a film where both protagonist and antagonist are women, and there's no doubt all the effort went into Faith and Jessica, with the male characters barely registering. Paul, in particular, is so easily deceived you wonder how he ever became a detective. Yet, as pulpy nonsense goes, this hour and a half certainly went by quickly and painlessly enough.
Dir: James Cullen Bressack
Star: Stefanie Estes, Summer Spiro, Tomek Kosalka, Brian Shoop