"A four-episode story stretched over eight episodes."
Sam Hunter (George) is an agent for a private intelligence agency, Byzantium. While on a mission in Morocco, she is shot and nearly killed, so opts to go off-grid for a year. She returns to her job, and is assigned the highly risky task of infiltrating a criminal family, who are one of the bidders on a lucrative Pakistani dam project. However, that may not be the biggest threat to Sam's life, as she knows whoever was behind the attempt in Morocco may well try again, now she has come back out of the shadows. There's also the question of her own past, involving a dead mother and some severely repressed memories.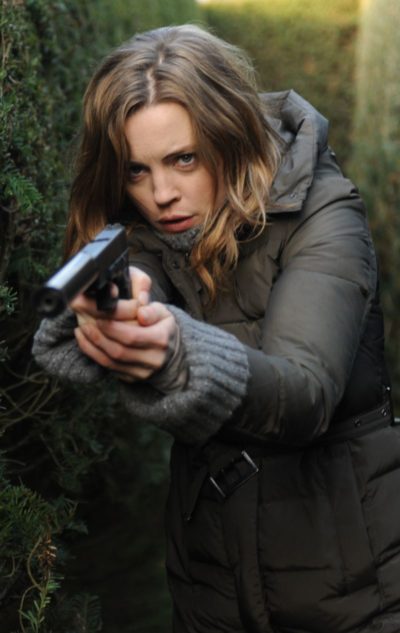 Originally pitched as a vehicle for Gillian Anderson – creator Spotnitz was a head writer on The X-Files – the main problem here is likely a structure which demands a second season the show never received. This seems to have come as a surprise to the creators, since they had put together a writing team and planned out storylines. Then, the show was abruptly not renewed, in response to sagging British ratings (the series lost 30% of its viewers over the eight-week run). Even after the BBC pulled the plug, there were hopes Cinemax would continue the show, as it had sustained its audience much better in the US. Those failed to come to fruition either, and the story of Sam Hunter is left frustratingly incomplete.
It's a shame, because the start and end of the first series had a great deal of promise. Hunter is quickly positioned as someone who is equally competent in both brains and brawn, with the action scenes here being impressively hard-hitting. George carries herself well, with a terse approach to combat that stresses efficiency over flamboyance. The main plot thread here, concerning corruption at the intersection between big business and high level government, is also well considered and not implausible. Kudos also to Patrick Malahide, as crime boss Jack Turner, who projects the right degree of barely-restrained malice, and also Spotnitz, for giving him a better motive than TV villains usually receive.
The problem is the middle episodes, where the show meanders off in half-baked directions likely intended for exploration in the second series that never happened. There are major segments concerning an even more shadowy conspiracy, named "Hourglass," as well as a creepy-looking dude who takes over the identity of a scientist, and who has a fondness for jabbing syringes into people's eyeballs. None of this ever comes anywhere close to being resolved, any more than the safe-deposit box key Sam is handed in the final episode. True, it's not the creators' fault the show was canceled. However, until the ink is dry on the contract for renewal, it's probably a good idea to act as if every series will be your last. Otherwise, you run the risk of ending up with something like this, an infuriating mix of well-crafted elements, thrown away on a bunch of loose ends.
Creator: Frank Spotnitz
Star: Melissa George, Adam Rayner, Stephen Dillane, Stephen Campbell Moore