"Not as good as the book. There. I said it."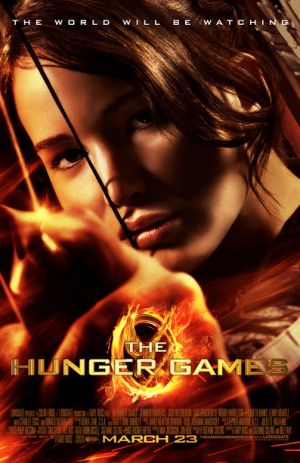 Ok, it has become the biggest-grossing action heroine film ever at the US box-office. So there's that. But truth be told, it's not actually all that good. Sure, it's impressively-staged, and Lawrence does very well with a role. But there are a number of problems, even as it follows the great majority of the novel. If you're not aware of the plot (and didn't read our book review!), I'll summarize. In a future dystopia, every year the 12 districts in the US submit a teenage girl and boy to the capital, where they battle to the death in a televised spectacle. This time, the resourceful hunter Katniss (Lawrence) volunteers, after her younger sister is selected; she and her male counterpart, baker's son Peeta (Hutcherson), have to go into battle with the other 22 contestants knowing only one can survive.
At 142 minutes, it's likely too long, especially as almost the first half is taken up with the pre-game activity, which is distinctly low in thrills. Even once the games start, the action quotient is fairly low, with Katniss seeming do a lot more creeping around on her own. That's fine in a book, which can fill things up with internal monologue, but it's not the case in a movie. And what action there is, is badly-shot to the point of utter confusion. There were also a couple of changes from the book that weakened it: the rule change in the middle seemed more of a convenient deus ex machine than in the novel, where it flowed naturally from the Katniss/Peeta alliance, and the genetically-engineered creatures which appear at the end originally were described as being created to look like the fallen competitors, a marvellously horrific touch. In contrast, the movie doesn't add all that much, in style or content.
On the plus side, I did enjoy Lawrence, who creates exactly the sort of strong, resourceful heroine we need more of, in all media. Unlike certain young adult book series I could mention, she doesn't seek or need male approval or assistance. In fact, Peeta is basically a wuss, who would be dead without someone stronger to whom he can attach himself – it's a beautiful bit of role-reversal. I also enjoyed a lot of the supporting characters, particularly Harrelson as the former winner turned alcoholic mentor, and Stanley Tucci as the TV interviewer who, I suspect, is much smarter than he seems. We should also remember that this is the first part of a trilogy, so probably needs to engage in more scene-setting. We'll see whether the rest of the series can deliver a better handle on the action, while sustaining strong elements, such as the excellent lead.
Dir: Garry Ross
Star: Jennifer Lawrence, Josh Hutcherson, Liam Hemsworth, Woody Harrelson