"Not exactly Harry Potter vs. Voldemort, shall we say"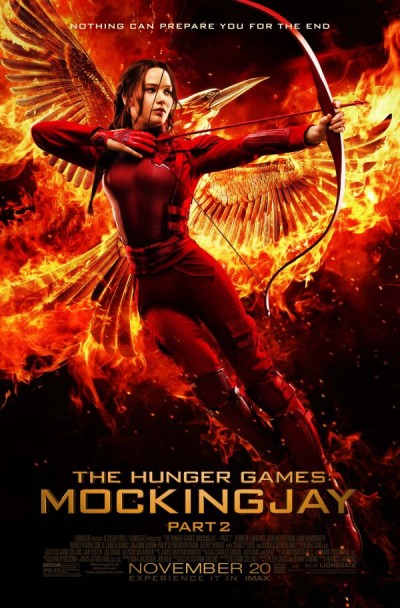 Unlike the adventures of our schoolboy wizard, where the final installment took the most at box-office, this was the least successful of the Hunger Games movies. And I can see why: almost without exception, it's a relentless downer, rather than a grandstanding finale. I have not, to this point, read the book on which it is based, so can't say how accurately this cynical tone reflects the novel, but based on the movie, let's just say, politicians as a species do not come out of it with a glowing portrayal! It begins immediately after the end of the events of Part 1, when Katniss (Lawrence) was attacked by brainwashed ally Peeta (Hutcherson). Meanwhile, the rebellion gains momentum and territory, as they head towards the Capitol. Katniss's role is now as a 'Joan of Arc', a rally point, and she is sent into the Capitol as part of a propaganda squad. However, she subverts the mission, claiming secret orders to assassinate President Snow, although it becomes clear that the lines between "good" rebels and "evil" establishment are increasingly vague.
Perhaps more than in the other installments, it's apparent here how good an actress Lawrence is, and how much this helps. Some of the scenes are extraordinarily impressive, such as her quietly talking to a loyalist soldier who has his gun jammed up underneath her chin. There are also some impressive moments of spectacle, such as her squad's entrapment by a massive, rising flood of tar. Two hours of that, ending in Katniss delivering a monologue and shish-kebabbing President Snow, would I think, have been superior to the rather bloated two-parter we were given – even if it's not as gratuitously over-stretched as The Hobbit. Still, even looking strictly at this final part, the last third (and given the film runs almost 140 minutes, that's a fair amount of screen time)  feels more like reading the Very Deep political thoughts of a somewhat paranoid teenage boy. Virtually all nuance is replaced with the movie's largely unsubtle whacking on the audience's head with a copy of the script, when not tying up a love triangle, which has been an irritant for the entire series.
Even if none of the four entries managed to achieve our seal of approval (this one likely came the closest), you can't argue with the success of a franchise which earned almost three billion dollars at the box-office worldwide, and countless more on DVD, etc. Depending on your definition, no action heroine film before this had taken even $140 million at the North American box-office; the lowest figure achieved here was more than double that. It has, unquestionably redefined the landscape and shown that, yes, girls with guns bows can hold their own in purely commercial terms. We can but hope that its success will open the door for other ventures, whether based on existing properties or fully-original ones. Though those will probably have to overcome the significant difficulty, of not having an Oscar-winner like Lawrence to anchor them. At least going by her ongoing work as Mystique in the X-Men universe, it doesn't seem our genre's biggest star now considers action to be beneath her – hopefully, that will continue. For there can be no question that throughout this, she was The Hunger Games's biggest strength, and whatever its flaws overall, she gave us a Katniss Everdeen the character deserved.
Dir: Francis Lawrence
Star: Jennifer Lawrence, Josh Hutcherson, Liam Hemsworth, Woody Harrelson