"Blonde barbarians have more fun."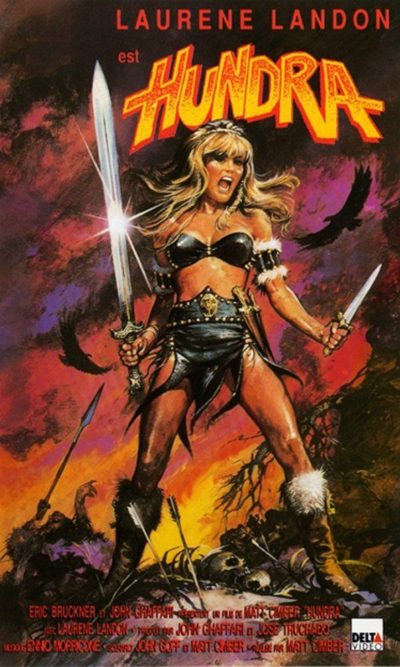 Director Cimber seems always to have had an interest in the action-heroine genre, having previously directed Lady Cocoa, he'd go on to do Yellow Hair and the Fortress of Gold , also starring Landon, and work on Gorgeous Ladies of Wrestling. But this was likely his best work, a rather inspired Conan knock-off, which both predates and is significantly better than Red Sonja.
The titular heroine (Landon) is left virtually the last of her all-female tribe, after everyone else is slaughtered while she's out hunting or something. Initially intent on getting revenge, the tribal shaman, Chrysula, then insists Hundra's more important task is to find a man appropriate to start the job of repopulating them. But our barbarian queen quickly finds out that most men are, indeed, dicks, and not in the sense she hoped either. The remainder of the film is mostly about the task of trying to locate someone worthy of being the father of her child, while also bringing a feminist consciousness to other women, who tend not to be anywhere near as liberated as Hundra.
It certainly starts impressively, with both the massacre and the resulting revenge-based chase (in which the hunters become the hunted), being well-staged and brutally effective. Landon could probably do with some more muscles, particularly in her arms; when she's clashing blades with guys twice her size, it isn't entirely convincing, but she largely makes up for that with a fierce personality. After that barn-storming start, the pace does slacken considerably in the middle too, as Hundra goes into "hormonal clock overtime" mode, eventually deciding that Pateray (Oliveros) has the seed worthy of her loins. However, he insists she must first learn how to be a lady, a rather odd concept for the genre – what is this, My Fair Barbarian? However, a strong score from legendary composer Ennio Morricone helps things tick over until the action quotient ramps up again in time for Hundra to pop out the necessary rug-rat and pick up her sword once more.
I believe the producers purchased some of the left-over costumes and props from Conan, which makes sense since the story here is also largely recycling its plot as well. Admittedly, it does so with a significantly enhanced feminist agenda, although this consists as much of portraying men as nothing but mindless boors as anything uplifting. Landon apparently did almost all her own action, and has to be commended for that; credit also Hundra's dog, who succeeds in out-acting and being more sympathetic than most of the men present. You'll believe a canine can ride a horse… While I'd be hard-pushed to claim this is great overall, and the inconsistency of tone is occasionally very jarring, there are enough aspects and elements which work, to make this an interesting, generally entertaining watch.
Dir: Matt Cimber
Star: Laurene Landon, John Ghaffari, Marisa Casel, Ramiro Oliveros