"My Sweet Sixteen Teenage Armageddon."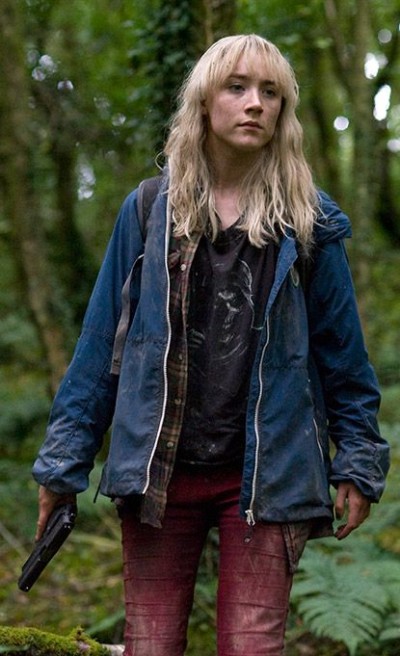 The extraordinarily surly teenager Elizabeth (Ronan), who loudly insists on being known by everyone as "Daisy," is sent from American to spend the summer in rural Britain with relatives. Unsurprisingly, she hates it – at least, until she meets Eddie (MacKay), a local brooding hunk for whom she falls. Fate throws a spanner in the works, however, as escalating tensions eventually lead to a nuclear attack on London and the outbreak of World War 3, against an un-named foe. The kids try to fend for themselves, but the boys and girls are forcibly separated, with Daisy having to take care of young cousin Piper (Bird). Turning her willpower to topic other than, as she says, not eating chocolate, she and Piper escape the camp where they are being used as forced labour, and begin the hazardous trek back to where Daisy is sure Eddie is waiting.
The best thing here by far is the heroine's character arc. In the first two minutes, it's established what a totally unlikeable bitch Daisy is: she has clearly made up her mind to hate the trip and everything about it, and the audience hates her for the obvious narcissism. But by the end, she has been forged in the fire of adversity and completely transformed in just about all aspects of personality, to someone who has learned that it's much better to live your life for others than for yourself. As Chris noted, it'd be funny if the whole thing had just been a set-up by her (unseen) father, just to teach his whiny daughter a good lesson. That isn't the case: what it is, is another powerhouse performance by Ronan, backed by solid work from the rest of the young cast, particularly Piper, who could gives the likes of Abigail Breslin and Dakota Fanning a run for their money in the Adorability Stakes.
Probably the main weakness is the abruptness of the relationship between Daisy and Eddie. It probably needed more time taken to develop it, because as things stand, it seems Daisy falls head over heels for him at about the second glance. On the other hand, I'm quite glad it didn't because it's the kind of standard, young adult cliché which we've seen far too often before [this was based on a book from the genre by Meg Rosoff]. Much more satisfying is the second half, when Daisy is forced entirely into relying on her own skills, and becomes a much more interesting character as a result. Director Macdonald got his start in documentary film-making and brings much of the same urgency to proceedings here, not soft-pedalling the brutality and violence of armed conflict. Like a more contemporary version of The Hunger Games, it shows how inner strength can be found in the most surprising of places, and Ronan cements her position as one of the leading young action heroines in Hollywood.
Dir: Kevin Macdonald
Star: Saoirse Ronan, George MacKay, Harley Bird, Tom Holland