"The eternal love triangle gets a spectacular, if chilly, swordplay reworking."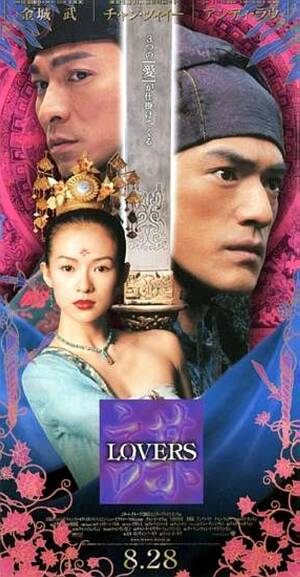 Since the success of Ang Lee's Crouching Tiger, fellow arthouse director Zhang Yimou seems to have become obsessed with one-upping Lee. First was Hero, a sumptuous and multi-levelled tale of revenge and betrayal starring Jet Li; now, we get House which while slightly smaller in scale, is clearly going for the same tragically romantic feel as CTHD. Policeman Leo (Lau) suspects Mei (Zhang), an arrested blind prostitute, is part of the titular rebel group, so sends Jin (Kaneshiro) to win her confidence by helping her 'escape', then going with her to the Flying Daggers's base. However, it gives nothing away to say that Mei and Jin start having feelings for each other, as they battle through the countryside, and it's no surprise to discover that several other characters aren't what they seem either.
First things first: Zhang cements her position as the finest action actress currently working. The fights here, under the direction of Ching Siu-Tung, are memorable, fluid and are among the best I've seen in a long time, mixing straight martial arts, wirework and CGI to elegant effect. [The CGI does go overboard, for example, when used to create falling snow which never actually lands on the characters!] Unfortunately, the film has but two speeds: full-steam and grinding halt, and between the battles becomes very talky, without much genuine emotion. After you realise the multiple levels of deceit, it's impossible to commit to a relationship with any of the characters; honesty is largely missing for the first hour and half. What this needs is humanity, which CTHD found in the fine acting of Chow Yun-Fat and Michelle Yeoh.
Originally, Anita Mui was part of the cast, but on her death, the script was rewritten – one wonders if she might perhaps have given the film a warmer heart? Still, the eye-candy side of things is luscious; costumes, cinematography, sets and sound come together [the Ukraine largely standing-in for China] to make one of those epics where any shot could be printed, framed and hung on the wall. Pity it has little more emotional depth than your average photo.
Dir: Zhang Yimou
Star: Zhang Ziyi, Andy Lau, Takeshi Kaneshiro, Song Dandan