"Colombia 1, America 1."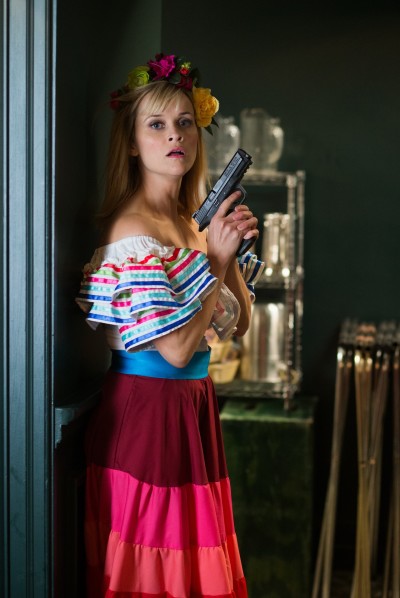 Your tolerance for this may well depend on your fondness for Modern Family, in which Vergara plays Gloria, who is much the same character: a Colombian spitfire trophy-wife. It works rather better there, as part of the broad palette of distinct individuals, and in an episode that lasts 30 minutes, including commercials. You get the sense she might not be too easy to live with, and the 85 minutes here does sometimes become more a slog than a pleasure, and we speak as big fans of Family. Here, rather than the wife of a closet magnate, Daniella Riva (Vergara) is married to the henchman of a drug lord, who gets gunned down after agreeing to testify against his employer  (Cosio), just as the straight-laced Officer Cooper (Witherspoon) arrives to escort them to court. When it becomes clear some corrupt cops are in on the action, Cooper and Riva are forced to strike out on their own, making for an unlikely odd couple, whose spiky relationship grows over the course of their unscheduled road-trip.
It's certainly far from novel, and the whole concept is so well-worn and utterly predictable, the script might as well have grooves and be mounted on rails. This is not a film to watch if you want to be surprised, in any shape or form; it's more like a comfy jersey, that you pull on, knowing exactly what to expect. As such, there are some moments which are genuinely amusing, such as when Cooper ends up coked-up by (literal) accident, chattering away like a highly-caffeinated dolphin. It's not Witherspoon's first entry here either; back in her early days, Freeway won our Seal of Approval, and more recently, we also reviewed Wild, which had her stepping out into the wilderness. This is a more obvious role, in more ways than one; like the story, Cooper is over-familiar from a hundred other comedies, and making her a woman isn't sufficient deviation to create interest. Witherspoon certainly tries, and the effort is palpable; however, there's only so far effort can take you, given such lazy writing.
With Vergara, the problem is almost the reverse; Riva certainly has more of an arc than Cooper, and is given some genuine motivation for her actions, rather than existing purely because the plot demands it. However, if you've caught one episode of Modern Family, you've already seen all this performance has to offer. It probably says a lot, that Vergara's turn in Machete Kills offered a more highly-nuanced approach to acting. I'm thinking this is probably the first time Machete Kills and "highly-nuanced" have ever been used in the same sentence. The end result just about manages to skate by on the charisma of its two leads, and I can't say we were ever bored; that hardly counts as anything even approaching a glowing recommendation, however, and you should be in a thoroughly undemanding mood before approaching this one.
Dir: Anne Fletcher
Star: Reese Witherspoon, Sofia Vergara, Robert Kazinsky, Joaquín Cosio,