"Grindhouse, Norwegian style."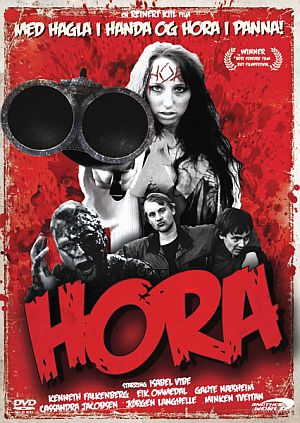 Crime-writer Rikke (Vibe) heads out to her former home in the country for a quiet few days catching up on her work. There she bumps into a guy whom she hasn't seen since she was eight, but who still seems to have the hots for her. She declines his advances, telling him of her husband back in the city, but he persists in his efforts, along with his policeman friend, and the backward clerk in a local convenience-store. A dead animal is left on her doorstep, and that's only a precursor to a long, brutal assault on Rikke that leaves her battered and bruised, almost beyond recognition. However, barely have the rapists left, before she is already planning her revenge on each one of them, and it will be every bit as unpleasant.
Yes, it's basically I Spit on Your Grave with a Scandinavian accent, and I'm not sure this is quite what the world needs. While I've no problem per se with rape-revenge movies, I am far more interested in the revenge part of the equation. See, for instance, Ms. 45, which gets to that side of things inside about 15 minutes, and is all the better for it. Here, once you get past the opening scene, the first 45 minutes are largely Rikke lounging around the cabin in her dressing-gown. She pecks away on the computer, occasionally chats to her husband (who seems more than a bit of a jerk, especially when drunk), and has uncomfortable interactions with her admirers. Then there's the attack itself, which is vicious and unpleasant – exactly how cinematic rape should be, of course, but this doesn't make it any more pleasant to watch, especially at the length depicted here.
Finally, we get to the revenge, and it's pretty much as you'd expect. Indeed, the entire thing is more or less what you would imagine from the synopsis, and that's perhaps the main issue. There's only a couple of moments where Kiil shows flair and while Vibe (a stripper and porn star) is decent enough in the role, you don't get much sense of Rikke's character or personality. That's where the impact – both from the rape, and the subsequent revenge – originates, and as a result, this left me feeling a bit like a poorly-made martini, neither shaken nor stirred.
Dir: Reinert Kiil
Star: Isabel Vibe, Jørgen Langhelle, Kenneth Falkenberg, Gaute Næsheim