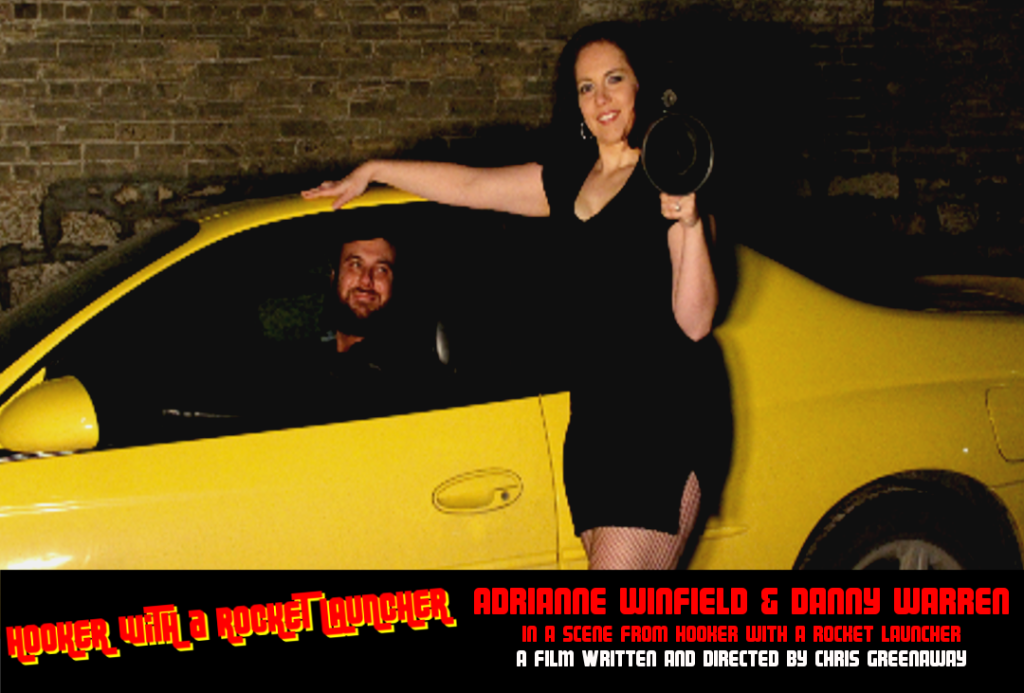 Some titles conceal their meaning behind layers of depth. Needless to say, this is not one of those – but it is, instead, one that demands your attention, and I was not surprised to hear that, according to its Canadian creator, Chris Greenaway,"The title definitely came first." However, inspiration for this short came from a number of sources. Most obvious among those is Hobo With a Shotgun, the fake trailer originally part of the Grindhouse double-bill, directed by Robert Rodriguez and Quentin Tarantino, before eventually becoming a real (and wonderfully trashy) movie, starring Rutger Hauer.  But Chris says the project additionally "drew inspiration from 80s 'hooker movies' such as Angel and Vice Squad. As Misty's weapon of choice indicates, we were also heavily influenced by the awesome Cannon Films action movies of the 80's like the Death Wish sequels and Delta Force." I'll pause here, for anyone of a certain age to sigh nostalgically.
Lead actress Adrianne Winfield needed no convincing, having worked with Greenaway previously: "Adrianne enquired about the role when I posted a casting call so I didn't actually have to pitch it to her at all. She really liked the premise." The actual production was relatively quick, just 2-3 evenings – one of those a reshoot day – with between two and four hours of shooting each night. Perhaps surprisingly (or not, if you have experience of how tolerantly placid our Northern cousins tend to be!), the film-makers didn't have any problem toting large weaponry round the streets. "We had no issues with the rocket launcher because up close it looks VERY fake," laughs Greenaway. "We also shot at night when most people were out of the downtown area."
Chris came relatively late to production. Originally a writer, of everything from comic strips to travel articles, he transitioned into making films after returning home in 2006, after teaching English in Japan. He recalls, "I went through a number of training workshops, and worked as a P/A on a number of sets while making the transition into writing screenplays." He has been making web series since 2008, with six to his name so far, as well as a host of shorts, and directed his first full-length feature, Witchstalker, in 2013, which was released by Screamtime Films the following year. His IMDb filmography reads like a love-letter to pop culture and bad film, with titles such as Beach Blanket Lucha, Ninjas of the Caribbean and Escape From Ridgemont High.
But what of Misty, whose armaments would make the residents of Sin City's Old Town deeply envious? "The reactions have been very positive from the get go. We've had several very positive reviews and feedback from my existing fans on Youtube has also been great," says Greenaway, who would like to see Hooker follow in the footsteps of its Hobo predecessor, and blossom from a trailer into a full-blown movie. "We're hoping to do a crowdfunding campaign to make it into a feature film. Once I'm done with a few other projects I'm involved in at this time, we can go all in with this!" We certainly hope that's a project which comes to fruition – some day, we will get to utter the immortal line, "Play Misty for me…" Here's the film, in its glorious, full 132 seconds.