"Pretty much the first of its kind – with all
that

implies."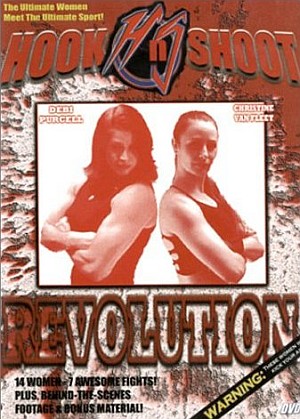 These days, the notion of women participating in mixed martial-arts is no longer seen as particularly outlandish, with names like Tara LaRosa, Yuka Tsuji and Megumi Fujii among the top fighters [as with pro wrestling, the best fighters are out of Japan]. However, this wasn't always the case: In April 2002, in Evansville, Indiana, one of the first all-women events in America took place. The fights took place under Shooto rules, with two five-minute rounds [though only one fight ended up going into the second]. Here are quick recaps of the seven bouts on the DVD.
Ruth Meija -vs- Erica Montoya Over in 2:32 with an arm-bar, but pretty one-sided. Montoya was in complete control and also landed some hard shots on her opponent.
Olga Bakalopoulas -vs- Shannon Hooper A better fight, with more well-matched opponents. Hooper wanted to stand and punch, but it was Bakalopoulas who came out on top; she managed to knock her opponent down (albeit more by luck than anything) and applied a keylock submission for victory in a little more than two minutes.
Jennifer Irons -vs- Jessica Ross A triangle choke submission ended this one at 1:48 in favor of Ross, even though she was giving away a fair amount of weight. Ross is more of a grappler, but got some good blows in, and also showed decent ground skills.
Tanya Vlahac -vs- Angela Wilson This was a barn-burner, with both women trading hard punches. Vlahac also dropped Wilson with one particular punch, but Wilson used her judo skills to bring her opponent down, and then took control, hitting Vlahac until the referee stopped the fight.
Shelby Walker -vs- Tara LaRosa LaRosa pounded her opponent into submission, after taking her down. From there on, it was an onslaught of punishment, and I can't say I'm surprised that LaRosa went on to make a name for herself in the field. Sadly, Walker died, apparently from an overdose of pain medication, in 2006.
Angela Restad -vs- Mayra Conde Almost all the early offense here was by Conde, with Restad simply trying to survive on the ground. However, as round one wore on, Restad came back, with some solid knees and combinations. The second round continued in a similar way, with Conde having the advantage on the floor, but Restad landing good blows. Conde almost got an arm-bar, but Restad escaped and almost got a choke of her own. This ended in a majority draw – two called it even, one gave it to Restad. A fair result, but the best fight of the night,
Debi Purcell -vs- Chris Van Fleet Purcell was clearly the better fighter, and had the edge from the start with a powerful punch. However, Purcell also showed good submission skills, and got under the guard of Van Fleet, taking her down for a relatively quick victory, forcing her opponent to tap at 2:42, with a Rear Naked Choke.
Obviously, the scarcity of female mixed martial artists in the US posed something of a problem to the promoters, with the matches apparently made mostly on weight alone. The Restad-Conde match is the only one whose outcome is not certain inside about 30 seconds, and that one is one of the best MMA bouts I've seen, male or female. The special features on the DVD include additional interviews with the fighters, who mostly come across as smarter than you might expect, and also Erin Toughill, who was present but not taking part. Two more volumes are available in the series; on the basis of this one, I'd be interested in watching them, but not buying them unseen.