"Not-so sweet home."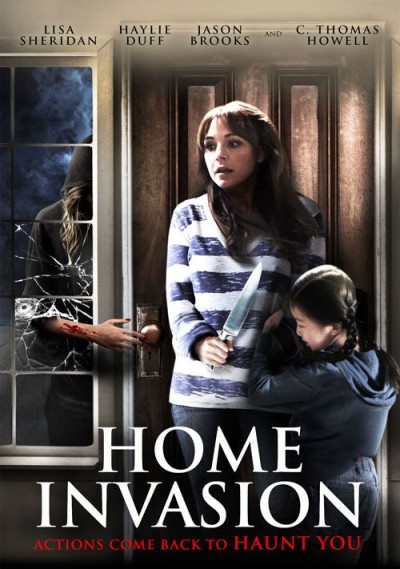 Nicole Johnson (Sheridan) comes home with her daughter to find a robbery in progress, but is a well-armed home-owner and ends up blowing away one of the intruders. The other, Ray (Howell), bails with their getaway driver, Jade (Duff), who was also the dead perp's girlfriend. She vows to take vengeance on Nicole and her family, in a variety of forms, from posing as a swimming teacher, to poisoning the customers at Nicole's restaurant, then setting the place on fire and framing her for arson. Plus, of course, she's a believer in the old Biblical law of an eye for an eye – or, in this case, a boyfriend for a boyfriend, Jade fixing to inject her nemesis's other half with that old "undetectable poison", potassium chloride. I have probably just got myself on a government watch-list by Googling that. Should have done it on my boss's computer. Oh, well….
So, before they come to take me away, this is a competent if hardly memorable TV movie, which is hampered significantly by the limitations of that medium. While the concept isn't bad, the inability to go full-bore into it with the necessary energy and – let's be honest – luridness, leaves the end result as bland as a bowl of rice-pudding. Duff isn't bad, with a feral intelligence that's somewhat endearing – frankly, I was largely rooting for her to get the revenge she craves – and Howell is good value as ever. Though Ray spends half the film hiding out in a shack after the aborted robbery, which makes for a bizarre time-frame, since it appears everything else unfolds over the period of several weeks or even months. I'm not actually sure what purpose his character particularly serves; however, watching Howell play a middle-aged gangsta in a bandana is bizarrely fascinating for some reason.
I was hoping it would all build to some kind of extended brawl through the house, with the lioness defending her cub against a predatory newcomer. It's not much of a spoiler to say I was almost entirely disappointed, though Jade's final moments have a poignancy that is surprisingly effective, and quite at odds with the low-key banality that preceded them. For almost everything else found here, is the very definition of workmanlike: largely non-threatening drama, technically solid enough, yet possessing all the bite of a geriatric chihuahua, and delivering about as much threat.
Dir: Doug Campbell
Star: Haylie Duff, Lisa Sheridan, Jason Brooks, C. Thomas Howell