"Competent but hardly thrilling role-reversal of The Bodyguard."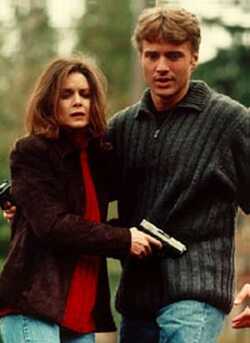 The imagination on view is exemplified by the title; changing a definite article is about as imaginative as it gets in this TV movie. Kapture, a veteran of Silk Stalkings, plays Jenny Farrell, the security officer at a pharmaceutical company who has to guard the only witness to a robbery, a deaf man (Natale) whom the villains want dead. Oh, and they've got inside help.
Save for an interesting diversion at a deaf school midway through, the story (by Dynasty veteran, Emma Samms) follows exactly the path you'd expect: hero and heroine begin antagonistically before falling in love (and into bed). Naturally, the police are not brought in, no matter how many rounds of gunfire are sprayed at the target, with Jenny instead preferring to run and hide in the mountains, where the bad guys can come and have the obligatory final shoot-out.
Kapture isn't bad, but lacks any physical presence, and while there are attempts made to give her flaws, this just ends up making her character seem weak. It's nice to see a challenging role for a deaf actor, but it feels like an exercise in political correctness – there's no reason for him to be deaf, so it smacks of tokenism. While never particularly bad, it's a remarkably even film, and never gets much beyond mediocre either.
Dir: Artie Mandelberg
Star: Mitzi Kapture, Anthony Natale, Michael Copeman, Robert Guillaume