"High School Girl? Check. Zombies? Check. Hunting? Not so much."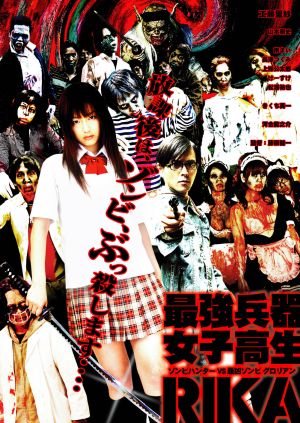 Rika (Kudo) and her schoolgirl pal ditch education for a day and head off to a remote village to check up on her grandfather, who hasn't been heard from for a while. But as soon as they arrive, the pair come under attack by zombies, initially spawned as the result of a euthanasia drug being tried out by the Japanese government to address the whole "inverse pyramid" thing. They do reach Grandpa's house, but find him in the stages of advanced Alzheimer's – at least, until Rika is bitten. Gramps removes the limb, and replaces it with one conveniently lying around, which happens to belong to a master zombie hunter. Who cares if it's the wrong colour and incredibly muscular? With America preparing a Return of the Living Dead style cleansing operation on the area, Rika and her allies have to locate the King Zombie and kill him, before being reduced to their constituent atoms.
There are a couple of nice ideas here, so let's get those out of the way first. The master hunter is an amusingly male version of the Onechanbara heroine, both in the cowboy hat and otherwise scanty clothing. And I liked the fact there is actually an intelligent, polite zombie thrown into the mix, who retains his fondness for humanity (or does he? For he's still a bit bitey…). However, it's the best part of an hour before anything approaching the title is seen, by the time Rika loses her arm, gets her new one and comes to terms with the new, strong urges to swing a sharp sword in the direction of anything lacking a pulse. When it does…it's really no great shakes either, and the action aspects of this are absolutely no match for the likes of Machine Girl or Hard Revenge Milly.
This is, however, operating in a rather different genre, as you'd expect from the makers of the catchily-titled Girls Rebel Force of Competitive Swimmers, which occupies an uneasy middle-ground between horror and soft-porn. This is mostly horror, occasionally comedy (the Three Stooges who are also roaming the town could have taken their comic mugging and left, without doing the film the slightest damage), and the action is some way back, likely less important than the "let's all compare our breast sizes" scene. I'm certainly not averse to horror, and on that basis, given its low-budget, it's a harmless time-passer. But given the title, I'd have liked to see Rika do an awful lot more actual hunting of the zombies.
Dir: Kenichi Fujiwara
Star: Risa Kudo, Takeshi Yamamoto, Mai Minami, Tsugumi Nagasawa