Less a "film" than "fights spliced together, interspersed with cut scenes from a Mortal Kombat knock-off".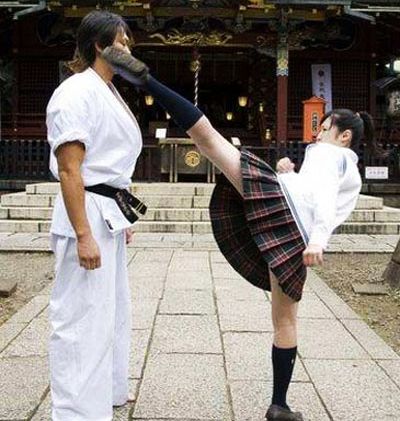 The entertainment value you get from this may depend on your expectations. It undoubtedly works best as a party-tape, show-casing the "no wires, CGI or stunt doubles" approach, but I have to beg to differ with some of the critical savaging it has received. Even on our forums, it divided opinions, with some posters calling it "moronic and offensive" and "complete TRASH". While I can see its weaknesses, and it's no classic, at least in the first half, it does deliver pretty much everything you'd expect in the way of teenage ass-kickery.
The plot – such as it is, and I wonder what they did with the rest of the postage-stamp – is as follows. Kei Tsuchiya (Takeda) is a student under master Matsumura (Naka), but fed up with training, goes out to "hunt black belts." This brings her to the attentions of the Destroyers, a gang of mercenary martial-artists called the Destroyers, extend an invitation to her to join them. Turns out it's a trap, designed to lure in Matsumura, against whom they have a 15-year old grudge, and with the kidnapped Kei as bait, they await her teacher's arrival. And that's the main problem. The first half sets up Kei as fearless and tough, but after the chief villain shows up, spends much of the second-half whimpering on the floor: Matsumura does far more of the heavy lifting, despite his claim, rather questionable on the evidence here, that "karate is not for fighting."
And that's a shame, as Kei makes a good impression, right from her first bit of action, which sees her surprise an unsuspecting opponent with a kick to the head from a standing position, as shown on the right. Another standout was the kickfest (below), against another real-life karate star, Yuka Kobayashi. Stylistically, however, the main problem is the director's repetitive, frequent use of slow-motion: while this is great in the aforementioned "party tape" atmosphere (where, if someone yells, "Wow, look at that," you can turn around and see it again), it is badly overused and drags the viewer out of the cinematic experience far too often: lob this kind of stuff on as an extra on the DVD, if you must.
The reviews which aren't writing this off entirely tend to point out that it works better if you regard it as some kind of martial-arts promotional piece, and that would tie in with the heavy emphasis that "Karate is a martial art for protection." [Personally, I feel a good pair of running shoes would be just as good there] However, there's little doubting that Takeda is the real deal in terms of fighting ability, and shows a willingness to take punishment as well as dish it out, that is certainly to her credit. However, the inexperience of both her and the creators in the more traditional aspects of film-making – for the final battle, the location appears to be a school gymnasium, on loan to the Destroyers! – do significantly hamper the overall merit.
Dir: Fuyuhiko Nishi
Star: Rina Takeda, Tatsuya Naka, and a host of faceless minions