"The world's first microbudget superheroine wrestling soft-porn film."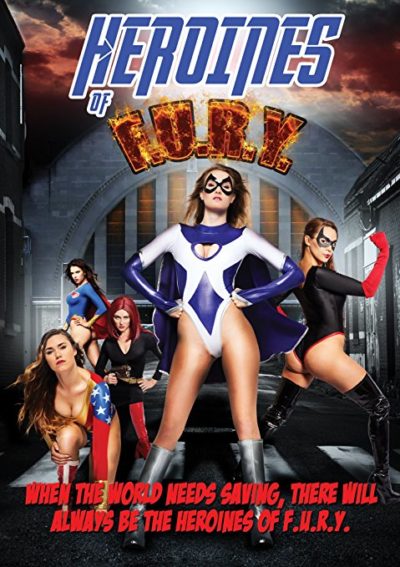 Given the cover, you might reasonably have expected one of the above, but if you saw the rest coming, you're a better judge of cinematic dreck than I am. It's hard to work out exactly who would form an overlap between the various potential audience sections here. And even someone not averse to any of the categories (I'd probably qualify) might well be turned off by the poor production values and overall shoddy quality of this.
The film is set in "Metro City", which was my first surprise, because a lazy reading of the synopsis had me believing this was "Mexico City". My bad. Turns out Omega is putting together a squad of super-powered heroines, having discovered that someone, somewhere appears to be abducting their colleagues. Nothing good can come of this, naturally. The main focus is Cosmic Girl (Lane), who has only gained her costume and secret identity relatively recently, so is still coming to terms with her situation. But she's just one of a slew of caped crusaders, including – I'll pause to take a deep breath, and copy-paste from my notes here – Lady Victory, Sunder, Spyder, Starlet, Dusk and Lilith.
Which wouldn't necessarily be bad, if it had delivered something along the lines of the wonderful, Electra Woman and Dyna Girl. But the actual tone becomes creepily apparent here almost immediately. In the first scene featuring Lady Victory, we're treated to close-ups of her feet, cleavage, butt, crotch and cleavage again, before we get to see her face. Sadly, this turns out to be an accurate indication of the movie's priorities, with the eye of the camera adopting a highly fetishistic approach to its subjects. That's when the film isn't toppling over entirely, such as the 10-minute sequence of Cosmic Girl masturbating on her bed, in full costume, which ends up coming – a word used advisedly – about the width of her gusset elastic from being hardcore porn.
Then there are the scenes in a wrestling ring. For it turns out, part of the point of the abductions is to put together a forced "fight club" for these "metahumans", which is streamed online. The losers also have their powers stolen. Which is an idea with some potential. Or, rather, it might have, if anyone involved could actually fight, or give a credible illusion of fighting: this isn't exactly Lucha Underground, shall we say. It turns out to be little more than a thinly-disguised excuse for some sub/dom play.
Look, I'm sure there's a market for this kind of thing, and I'm certainly not one to judge it. But this is masquerading under the illusion of being a real film – it's on sale at Walmart 'n' stuff – and that creates certain expectations, which the movie is woefully ill-equipped to meet. Admittedly, if you had the foresight to Google "Brookland Brothers", the studio behind it, you would find yourself looking at a page of thoroughly NSFW links. However, the rest of us will probably be looking nervously over our shoulders for fear of a family member showing up, and wishing for an industrial-sized bottle of hand-sanitizer.
Dir: Tyler Benjamin
Star: Halsey Rae, Ashley Lane, Krisa Kouture, Christina Verdon