"A mix of the horribly effective, and the plain horrible."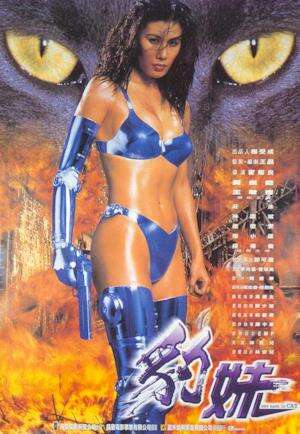 Clarence Ford seems to be after a PG-13 rated version of his hit, Naked Killer, reining in the sex while keeping the action. That it doesn't succeed is more due to staggering ineptness in the superfluous attempts to give it emotional depth. Any movie is in trouble when someone says, "Love means never having to say you're sorry," never mind a kick-ass action flick. Fortunately, that side is luscious, well-staged and shot, and it's this that saves the film from being a disaster. The above rating is thus a composite: 4.5 for action, 1.0 for drama, divide by two, and round up for the wildly gratuitous, wholly inaccurate, very non-PC poster.
Wong plays Yin Ying (a.k.a. Cat, I guess), an assassin from China who falls in love with the cop hunting her (Michael Wong), and wants out of the murder business. But he wants her employer too, who thus sends other killers after the policeman. She defends him, and battle is joined. The Cat/cop relationship is awful, impeded by a portentous voiceover and an apparent ignorance that this has been done a million times before. You may also find yourself wondering whether a full wedding dress is standard gear aboard Hong Kong yachts.
It doesn't help that Michael Wong is wooden as ever, though even Anthony Wong would be hard pressed in scenes requiring him to mope over home videos of his ex-wife and kid, as mournful easy-listening music plays. When Cat goes to war, however, the results are excellent: particularly outstanding are a brawl in a burning building, and a death nicked from The Omen. Could have done without the workout footage, but given the amount of noodles Cat eats (a nice touch, since her family died of starvation), it's probably necessary.
Dir: Clarence Ford
Star: Almen Wong, Michael Wong, Kenix Kwok, Ben Lam