Literary rating:
Kick-butt quotient:
"I am going to die, surrounded by the biggest idiots in the galaxy."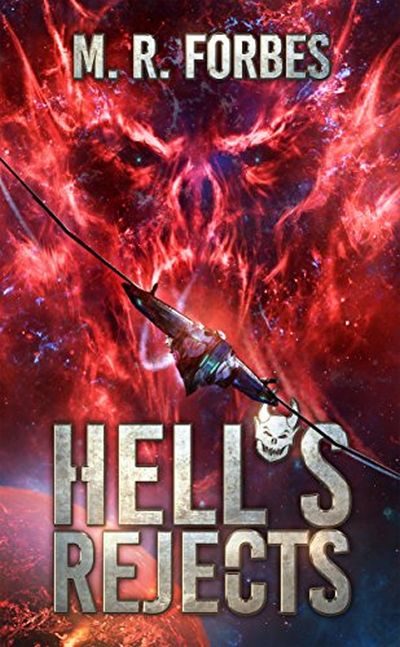 The heroine in this enjoyable slice of space opera is Lieutenant Abigail Cage. She's a "breaker" – effectively, a hacker – although one who is highly trained in combat. Her latest mission is to enter a rebel compound and recover a laptop, but the job goes awry, and she finds herself framed for treason after a cache of weapons goes mission, and sent to Hell. No, literally: that's the name of the planet, and it's an entirely apt one.
Once imprisoned there, two competing forces come into play. One has interest in using Cage as the guinea-pig for a program to unleash an army of superhumans. The other is Captain Olus Mann, who needs her for quite a different task. Because the rebels have stolen two cutting-edge spaceships, the Fire and the Brimstone, which could tip the balance of the ongoing conflict. Someone needs to find and retrieve them. That someone is Cage, together with a motley crew of other convicts, liberated by Capt. Mann from Hell.
The first in the "Chaos of the Covenant" series, it strikes a decent enough balance between telling a self-contained tale and luring you in to the next volume. As the tagline at the top – not an actual quote from the book! – suggests, it falls somewhere between, and owes a big debt to, both Guardians of the Galaxy and Suicide Squad. With a side order of La Femme Nikita. There's a big sprawling universe out there, and Cage has to try and wrangle her motley crew of species through a task which rarely seems less than an impossible assignment.
Fortunately, if a little conveniently, Mann has a very discerning eye for personnel, and put together a good team as backup, out of the pieces to hand in the prison. For instance, one is an incredible pilot, another a wiz with machinery, etc. Cage, meanwhile, can keep them all in line, both through her force of personality and with force if necessary. She's desperate to complete the mission, win her freedom and return to her daughter – who doesn't even know Mom is in prison, let alone has been broken out in order to chase a stolen spaceship across the galaxy.
Meanwhile, there's also the side-effects of the experimental injection she received while in Hell. If only apparently half of what she could have received, the effects are impressive, effectively rendering her near-bulletproof. [She can still be shot, it just… doesn't appear to have any real effect] This could have ended up being a real "Mary Sue," in the sense of a heroine who is utterly unstoppable. Except those responsible want to track Cage down, and send Trin after the heroine. She is another woman who has gone through both halves of the process, making her a particularly tenacious adversary. This leads to the final epic battle, in a series of what must be said, are largely epic battles.
Yeah, if you're fond of large-scale destruction, this book certainly delivers. The carnage begins with the scene where the two spaceships are stolen, that escalates into the demolition of an entire spaceport: like many sequences, it seems written with one eye on a cinematic adaptation. Refreshingly free of romantic distractions, this does an excellent job of setting up its universe and populating it with interesting characters, each of whom have their own, interlocking agendas. Indeed, it may perhaps be slightly overstuffed with ideas, species and technology. Better too much invention than too little though, and it's a series I can see myself picking up subsequent volumes down the road.
Author: M.R. Forbes
Publisher: CreateSpace Independent Publishing, available through Amazon, both as an ebook and a paperback.