"Not even deserving a console-ation prize."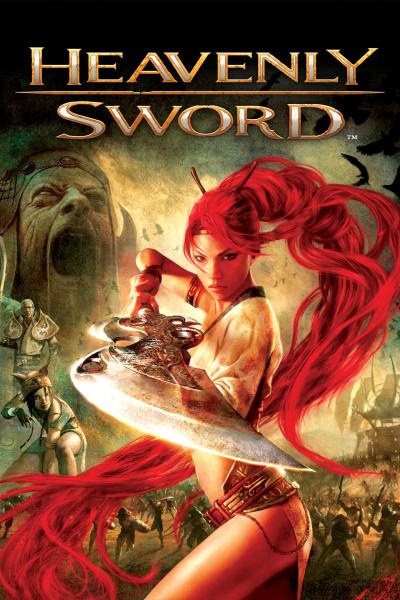 I wasn't aware this was based on a video-game, until I started watching it and saw a Sony Playstation credit. In fact, I wasn't particularly aware that it was animated. Neither would necessarily have made much difference, I guess, but forewarned is forearmed. Maybe knowing the game would make this better? Or maybe not, since that wouldn't address either of the two main problems here: a storyline crafted entirely from bad pulp fantasy, and animation that works very nicely for action scenes, but is useless at portraying any kind of emotion. To start with the former, there's a drinking game to be played here: take a swig every time a clichéd story element shows up. On second thoughts, I like my readers unencumbered by alcohol poisoning.
There's an all-powerful sword, which is guarded by a tribe. Evil king Bohan (Molina) wants the sword, because it, in the hands of the 'Chosen One', is prophesied to be the only thing that can destroy him. He attacks the tribe, scattering them to the winds: Noriko (Torv) is given the task of protecting the sword, and bringing it to her half-brother, Loki (Jane) who is the intended bearer. Except, of course, he isn't where he's supposed to be, having left his village to become – oh, the irony – a blacksmith in the massive fortress complex belonging to Bohan. So, Noriko, along with sister Kai (Ball), who refers to herself in an irritating third-person way like Gollum with cat-ears, have to head into the heart of enemy territory, with Bohan in hot lukewarm pursuit. However, the 'Chosen One' turns out not to be who we've been told at all.
This is my unsurprised face.
I don't like the CGI style here: for too much of the time, this like watching a cut scene from a video game. There are occasional interludes of more-traditional animation and this works rather better: I'd prefer to have seen the whole thing done that way, to be honest. However, I will admit that, when in motion, the flaws are much less obvious, and the final battle, pitting Noriko against an army is impressive; it's actually credible that she could kick their ass, more or less by herself. The ending does go in a different direction from what was expected, and has a certain poignancy, albeit spoiled by an unnecessary sequel-generating scene during the end titles. Torv and the other voice actors do what they can, but that isn't much, given their characters' faces express about as much emotion as an anaesthetized Shaolin monk. The late Roger Ebert once famously said that video games "can never be art." While I disagree with him, for a number of reasons not relevant here, watching this, I can kinda see from where he was coming.
Dir: Gun Ho Jang
Star (voice): Anna Torv, Alfred Molina, Ashleigh Ball, Thomas Jane